~
I scored my long coveted kiln and potters wheel on craigslist last week and have been super excited about creating some awesome tiles for 100th Monkey.
I decided that I also wanted to play with precious metal clay and add some bling to the tiles after they are fired and glazed.
I searched all over Tacoma and could not find anyone who carried PMC or any other variation of it, so I had to order online.
I was excited and just couldn't wait, so I pickd up some shiny Fimo and Sculpey Premo to practice my mold making.
I'll likely be using plaster molds for my ceramic work once I create the designs I want to reproduce, but was excited to try the RTV (room temperature vulcanizing) silicone putty as it sets up fast and creates a permanent, flexible mold that not much will stick to.
Like epoxy, the two components are separate and need to be well mixed together. You have approximately three minutes to work with it before it starts to set.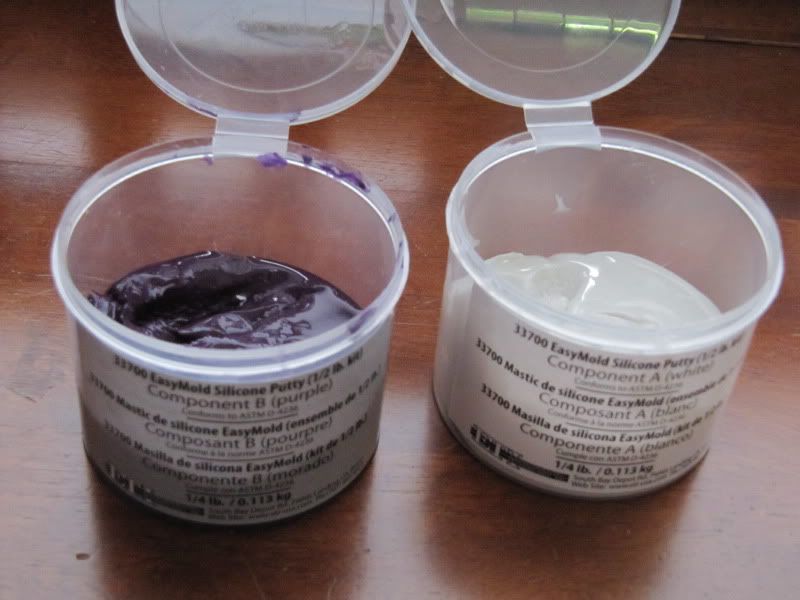 I chose two very different pieces to mold so that I could determine how much detail the silicone picks up. One was a lovely pewter angel from my friend Michelle's funeral. The other was a fire bird earring with extremely fine detail.
I also molded the special piece that I hope to add to the tiles, but that's going to be secret until the tiles are unveiled at the event.
I mixed the putty, making sure not to leave any air bubbles, pushed in my test pieces and set the timer for 25 minutes. I ended up giving it an extra 5 minutes just to be safe, because the 25 minute time is based on a 70 degree air temperature and my living room was about 67 at the time.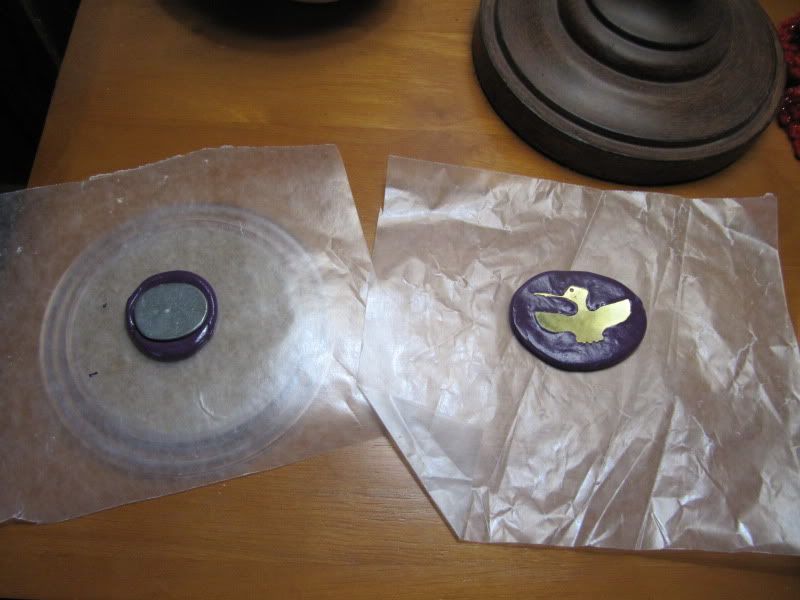 I was extremely pleased with the results, especially the detail in the fire bird as the design was etched very finely.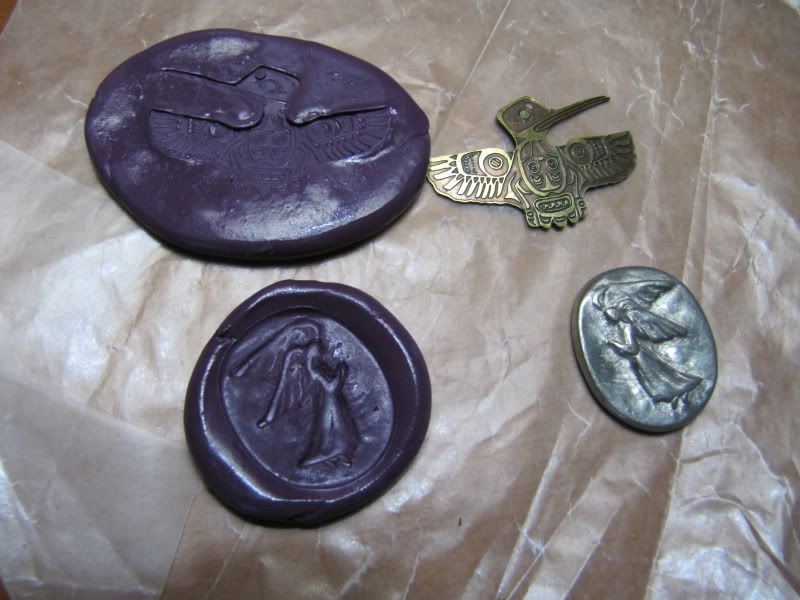 The next step was to roll/knead the polymer clay until it was smooth and easy to work with and press it into the mold.
Once again, I was extremely pleased to see how much detail was picked up on the fire bird.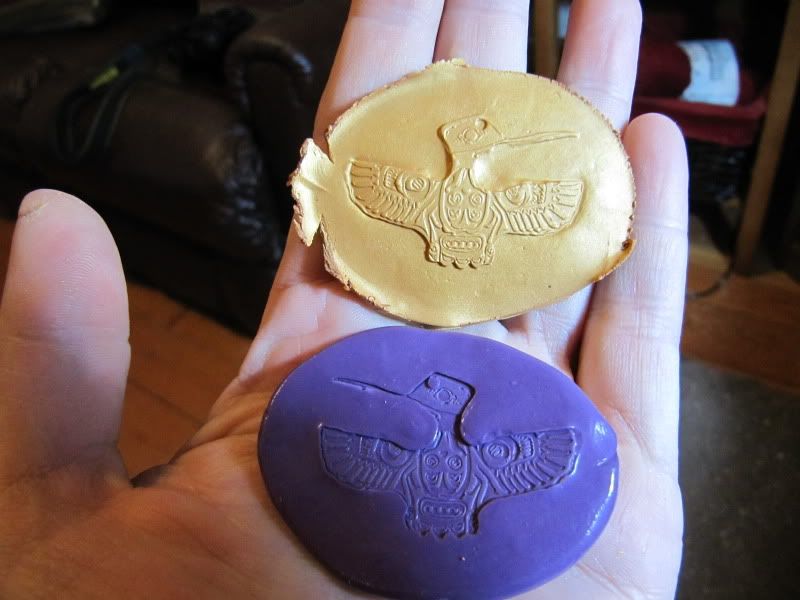 Next I trimmed up the pieces to remove the excess clay before baking.
Since I was using polymer clay rather than metal, I didn't need to kiln or torch fire it; the pieces were just popped into the over between 235 and 250 degrees (depending on the brand) for the time listed on the package (minutes are per ¼ inch of thickness)
They came out nicely, even the super thin beak on the fire bird which I was worried might over fire even though I left it much thicker than the original.
Once they cooled, I used my dremel tool to clean up the edges…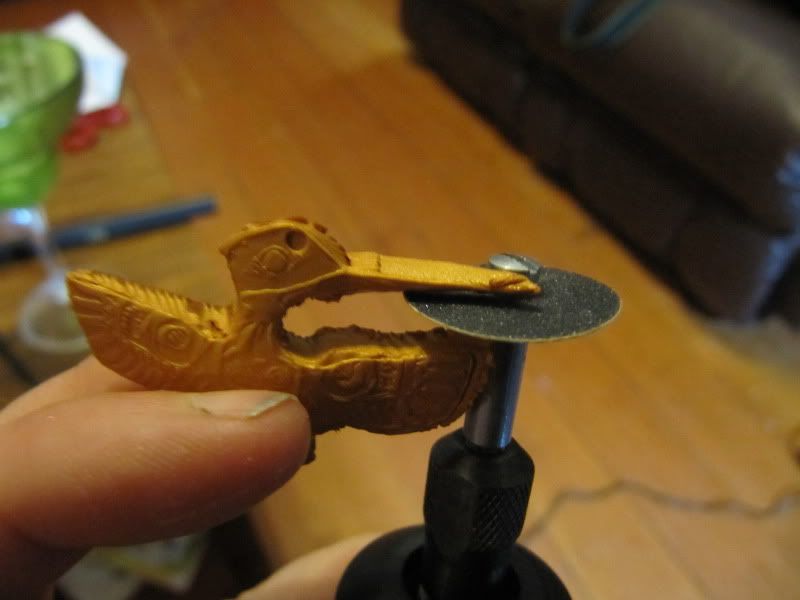 and to buff the surface…
I'm quite pleased with the way they turned out.
Here are the two items (middle) with the molds and the finished polymer products.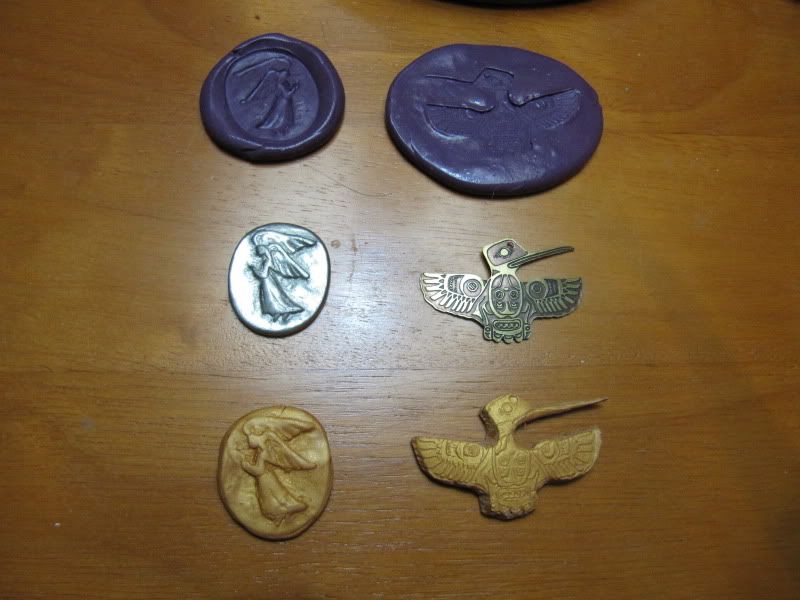 I'm very happy with the performance of the RTV silicone for mold making. I'm also looking forward to creating my own pieces to mold; but for now, it's handy to have different bits and findings to practice with. (I picked up a few fun shinies at Joanne's yesterday)
I made these thicker than necessary, as I hadn't worked with polymer clay before and was worried that I might break it after baking. The metal clay pieces will be much thinner as well as a bit smaller as shrinkage when the binder burns off is 10 – 30 percent depending on which product you use.
I'm anxiously awaiting the mail delivery as my copper clay is scheduled to arrive today.
Next up… torch firing metal clay…
~L