~
It started out innocently enough.
An adventure with a group of friends, doing something I always thought was cool (in a hot kind of way) just before I was getting ready to head in to surgery.
We went to the Tacoma Glass Blowing Studio for the "Glass Blowing Experience" which is working in pairs, one on one with a glass blowing instructor to create a piece of art glass.
You get to do a lot of it yourself, but the instructors help you with the really difficult parts so that you actually get a piece you want to take home.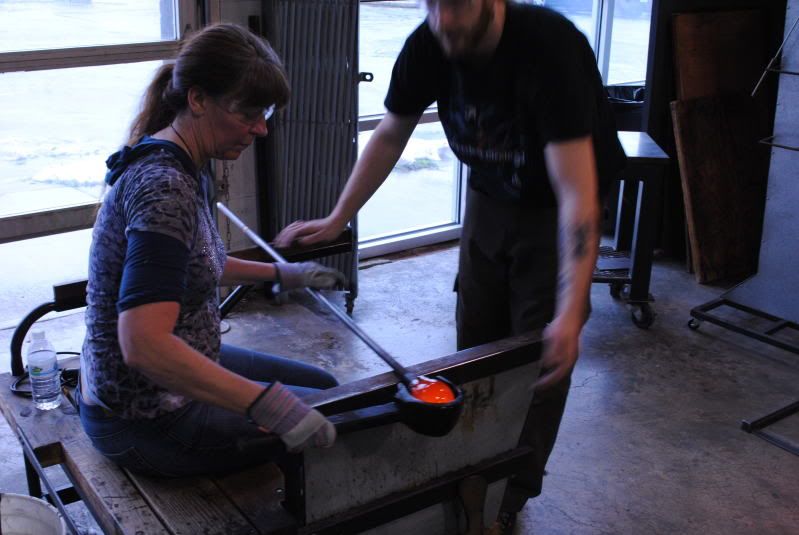 It is fascinating the way the glass melts, changes, takes color and can be manipulated into different shapes/color patterns.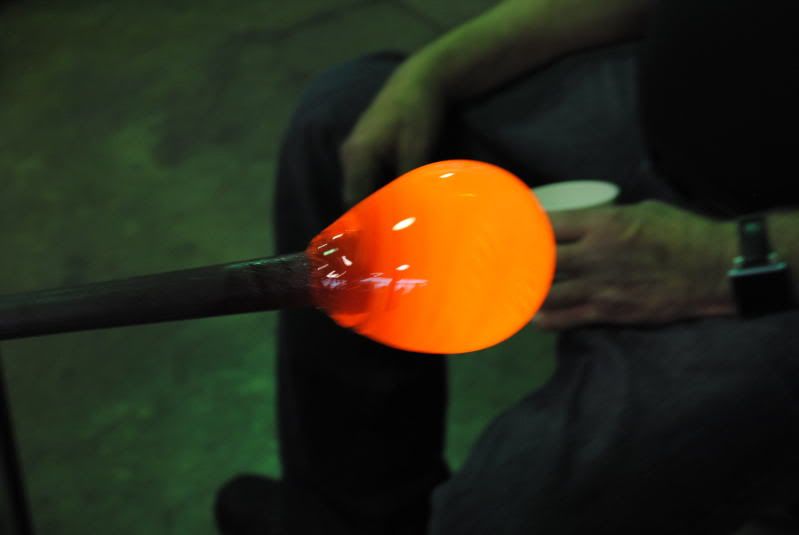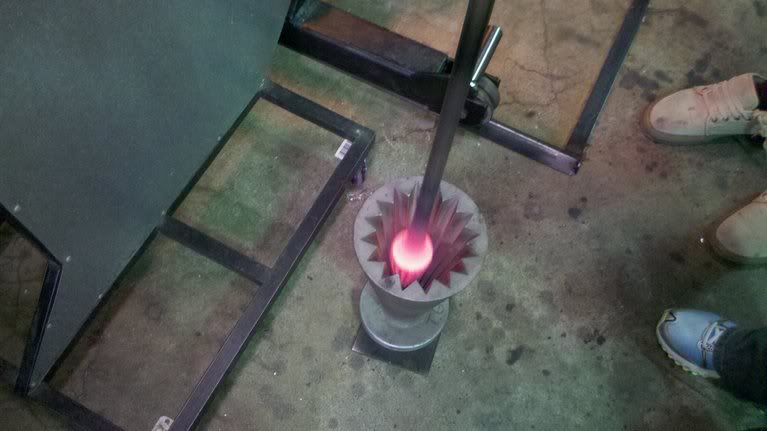 I came home with this bowl (Jake did the rim)
After that, I was hooked and signed up for the two day workshop. My partner Bruce and I made several items and worked much more independently,but still had some help with the super hard bits or if we got into trouble (for example, when spinning open a bowl the rim can get pretty crazy if you turn the pipe too quickly) The glass was still fascinating.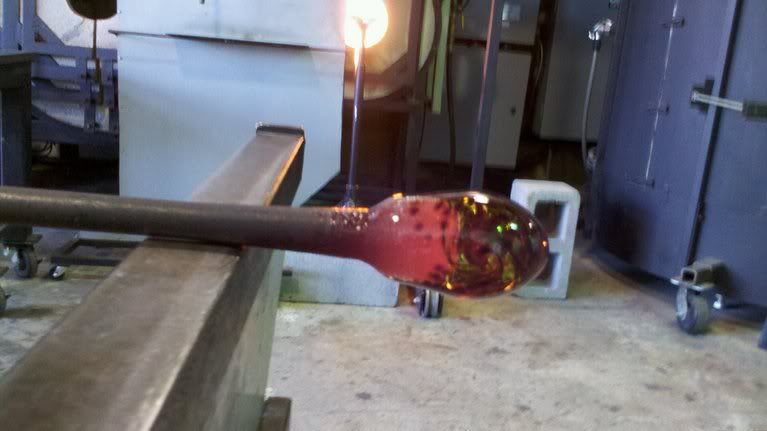 I came home with several awesome things, including this jellyfish paperweight; I chose the colors specifically and pinched up the top to make it look like the Portuguese Man O' War that terrorized our beaches where I grew up during the warm El Nino currents. Brian helped me with this one.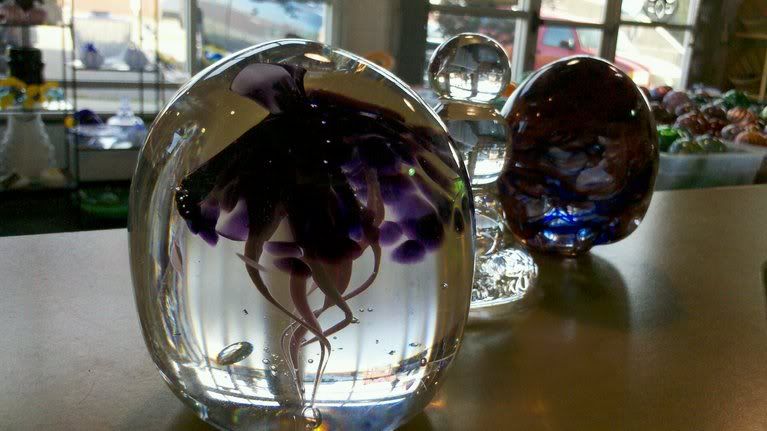 After that, I decided to take the six week course, which meant that I'd have to switch up my bellydance classes from Tuesday night in Tacoma to Sunday afternoons in Seattle, but it was worth it. At this point, my partner Justine (who had also done the experience and two day workshops) and I were working almost entirely independently, Billy was our instructor and while he was there to guide us, we learned a lot by doing it ourselves.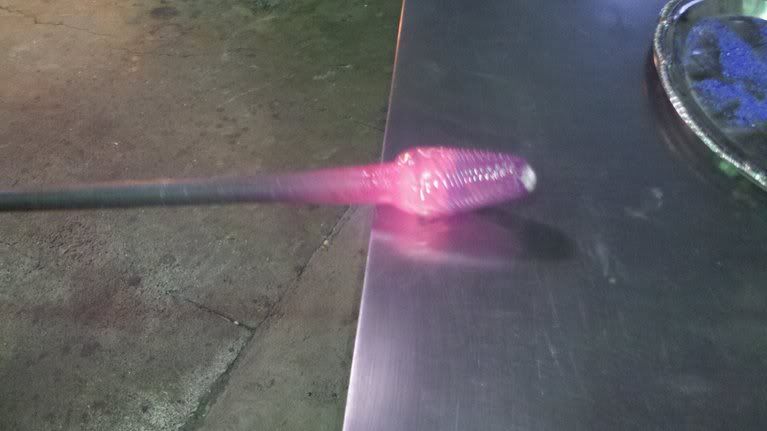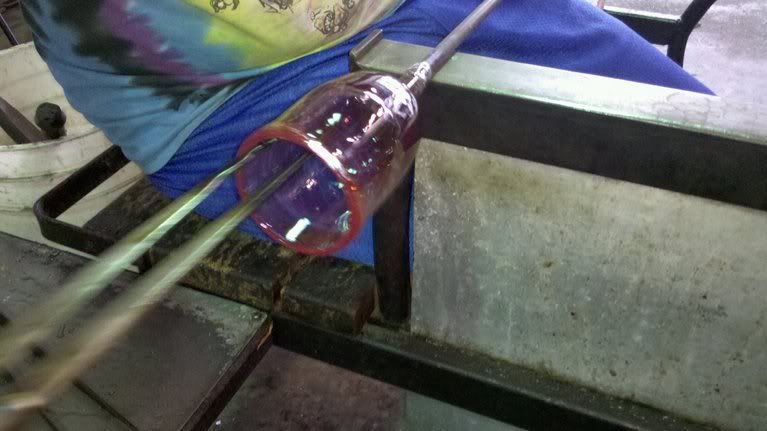 We also made mistakes and more than one piece either imploded in the furnace or fell off a cold punty. (two pieces that dropped were actually salvaged by a fast moving Billy with a hot was of glass on a punty pipe.)
For those who do not know what a "punty" is, it's a cone of hot glass on a smaller pipe that the piece is passed off of the blow pipe to. The punty must be as perfectly centered as possible and just the right temperature to allow it to adhere well to the bottom of the piece before it is broken off of the blow pipe (the end that was on the blow pipe is then the new "top" that is opened up.)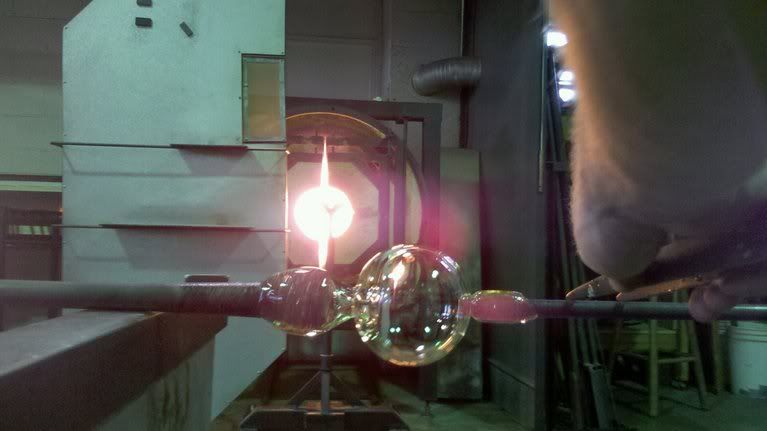 We also did a couple more floats to practice designs and an ornament to practice blowing the bubbles…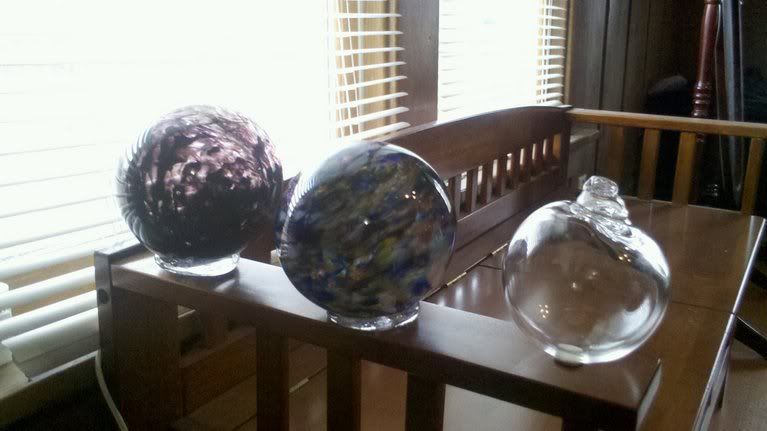 this is the first bowl I blew with no help at all. It's not perfect, but I did it all by myself
and these were my first cylinders.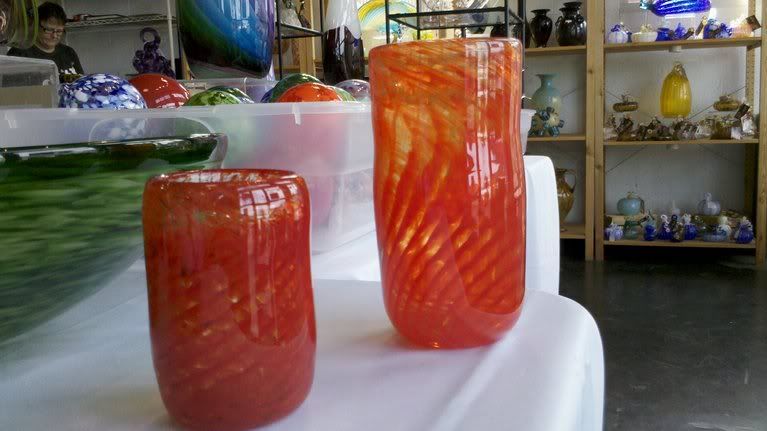 I learned a LOT from the mistakes such as the need to flash big pieces more often and to torch the punty/moil so that it doesn't get cold, crack and blow the piece)
For example this lovely vase that I was really excited about (which was on the punty not the blow pipe) blew off when the moil on the punty got cold and cracked. Our instructor tired to save it, but alas, it imploded in the furnace. (notice that I loved coming to glass blowing class in the same pants I wore to ceramics class) it's amazing that I never baked them hard by standing so close to the 2200 degree furnace.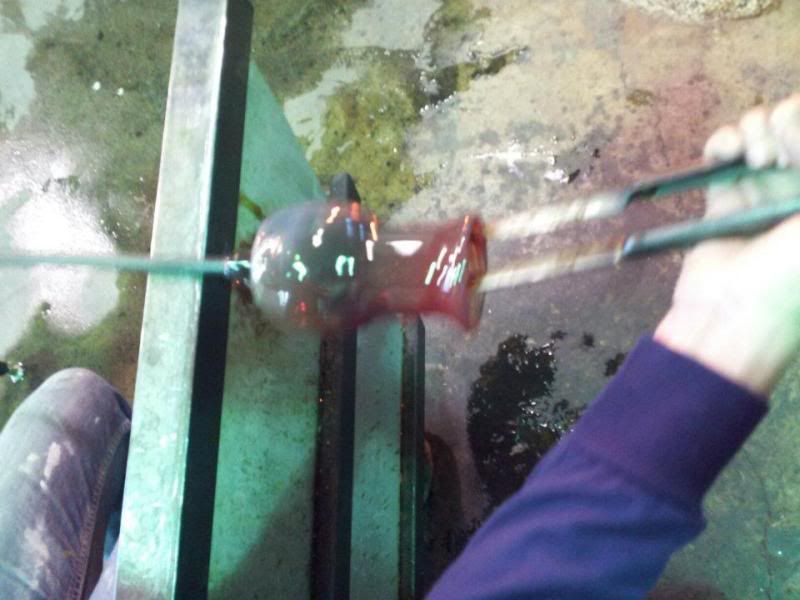 I desperately wanted to take home a vase I had made entirely myself, so I was able to work very quickly and blow this one in a little over 20 minutes. No, it wasn't as good as the first one, but it survived the process and I made it entirely myself with no one else touching it (well except passing it from the pipe to the punty)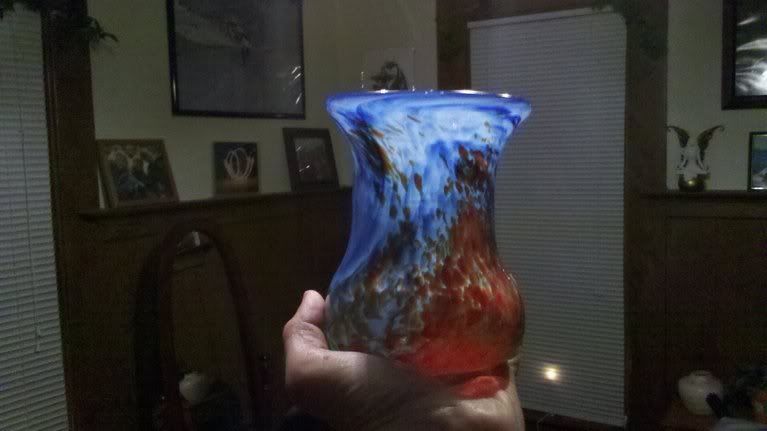 Six weeks after we began, Justine and I "graduated" after blowing our first plates and doing another cylinder because they are fun. (Billy hummed Pomp and Circumstance for us)
So yeah, I'm hooked, and will be starting intermediate classes in July and helping some friends with production work
and I'm no longer a "beginner" glass blower (but I will always be a student and be learning)
~L