~
I've been having a blast at both Throwing Mud Gallery and in my home studio working on my pottery.
I've grown a bit weary of throwing bowls, although I will have more fun when decorating my home thrown ones with brushed glaze rather than the dipped glaze at the studio. (hey, guess what a lot of you are getting for the holidays?)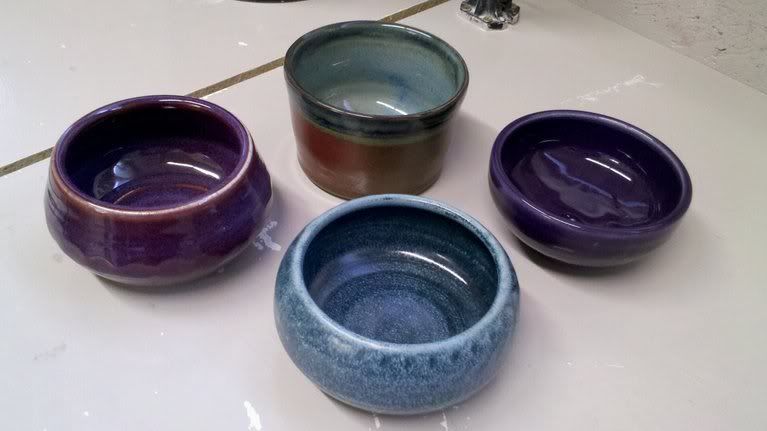 so I've been adding mugs to the mix. Mugs require throwing a cylinder which is a slightly different teqhnique.
The handles have been a challenge; cutting to the right length, shaping, decorating, attaching so that they don't crack, go limp or fall off…
My first handles were pretty amateurish, but I'm feeling pretty good about a couple of them that I put on today, especially the one on this pitcher.
Pitchers… Oh, yeah… I've been throwing pitchers… Here's one that came out of the kiln today as well as one that was practice for throwing bottles, it actually makes a lovely bud vase for a large flower with a short stem.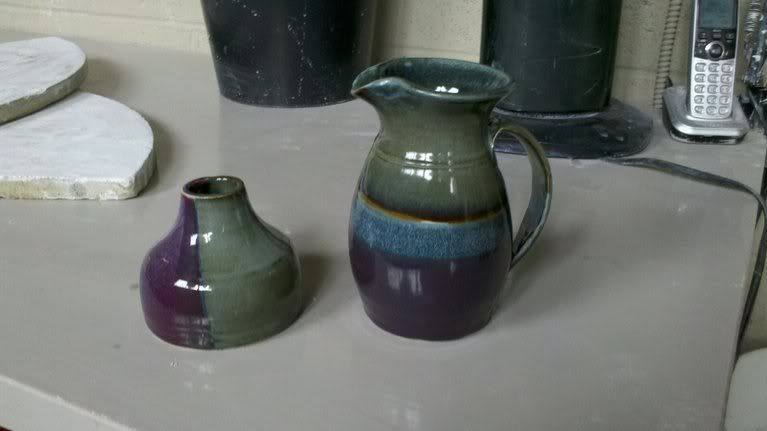 I got a wild hair the other day, and decided that I wanted to start throwing goblets. Goblets are one of the most difficult things to throw.
There are several different methods, and they can be thrown in one or two pieces. Proponents of each method have their own arguments why one is better than the other.
For example, a one piece goblet does not need to be joined, has no unsightly seam, does not require dry time to complete, has a nice heavy base so the goblet doesn't tip over when filled.
A two piece goblet is less squirrelly to throw, has a thinner more elegant stem that is hollow so it won't explode in the kiln if any moisture is left in it like a solid stem often does.
There are more, but you get the idea…
I came home from work the other day and decided that instead of cleaning my house or working in my yard, that I wanted to play with clay, so I decided to throw a one piece goblet.
I followed instructions that I had read seen, got a nice sturdy base and a well shaped cup. I didn't care for the shortness/thickness of the stem, so I started working it up and thinner.
That's when the cup portion fell off center and started to wobble. As I got it back on center and reshaped it, it finally collapsed, and this is what I ended up with. Goblet fail.
I went into the studio today to work (I'm still taking lessons ,which include one studio session each week) and told Mark about my goblet fail.
I was waiting for the oft uttered "You need to learn to walk before you run" instructor speech, but instead, he went to his work area, and showed me three different methods of goblet construction: one piece (the one I tried) two piece throwing the stem off the hump, and the two piece method he uses.
It was a super great help, so after I got my handle attaching, trimming and glazing done on my other projects, I sat down and tried it. One thing that really appealed to me, is that this method is similar to the way glass goblets are blown.
I'm pretty excited about what I ended up with. If the trimming and connecting goes well, I should have goblet win instead of goblet fail.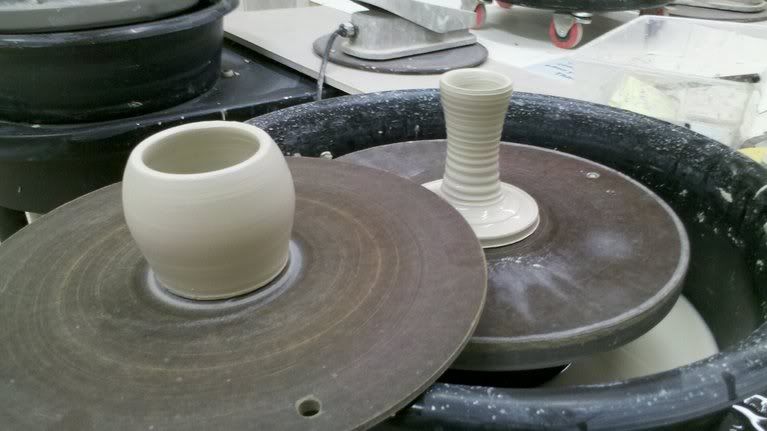 Goblet win would be awesome, as I've already got people lined up wanting me to do commission work.
Just for fun, I shot a video of the first stages of throwing a pot (controlling, coning/centering, opening, compression/control, and the first three pulls). I totally screwed up four pots (stage/camera fright?) but finally got one to stay together for the video. (I had a blast choosing the music to go with it)
Oh, and this is the pot once it was finished.
Next time, I hope to have shots of the goblet all put together, trimmed and glazed.
~L