~
The final (and most physically painful) stage of recovering from the hemorrhaging and surgeries is getting back to running after having been off serious training over two years.
I've been seeing all these great Tacoma Runners events, but I didn't want to be limping around behind everyone.
I joined a friend's "accountability" group on Facebook and set up another one for some girlfriends and I who wanted to train for a 5K. Yeah, pretty weird for a woman who has run several full marathons and olympic distance triathlons to need to "work up to" a 5K, but that's how it is.
I've been starting out slowly so as not to end up fighting piriformus or illio-tibial band syndrome (both injures I'm prone to, when I over train, over race or increase my mileage too quickly due to my previously fractured spine and pelvis)
I started out running 2-3 miles at a shot, 2-3 days a week. I've slowly increased that to four with Friday being the day that I will do my "long" run (which at this stage has only been 3.5 miles. I'm also going to try to get off the local concrete and on to trails more often.
My right hip, piriformus and the top of my hamstring has been giving me a heck of a time and I've been in a lot of pain.
I've always known that I can never live a sedentary life, for to so so would allow the scar tissue and arthritis to set in. This is obviously what has happened and it's been a challenge to know when the running is breaking things loose or creating an injury, and when I should suck it up or rest.
The first race I chose to run is a very low key, super fun event called the "Great Kilted Run". Back in the day, it was in Ballard, but now it's moved to Magnuson Park in Seattle
I was a bit concerned about my hip as it was bugging me just walking to the packet pickup area, which is when I decided that although my shoes did not have too many miles on them, they were two years old and had lost their mojo and needed to be retired… Luckily there was no concrete on the course and there was quite a bit of grass and gravel.
My friend Carmel signed up with me, and this was a really big deal because it was her first ever 5K.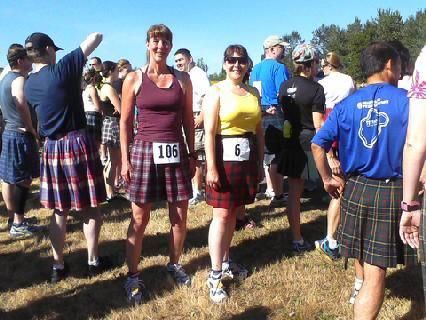 Here we are engaging in a wee bit of kilt flipping…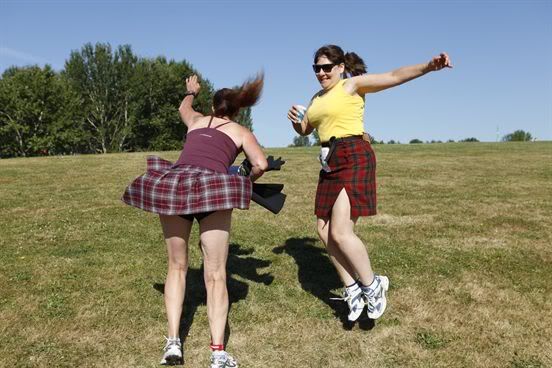 The start was hilarious… Rather than the narrow streets of Seattle start that so many of us are used to, it was a wide start which headed up Kite Hill.
I'm sure we were quite the sight to anyone who didn't know what was going on. As all of us crazy kilted folks raced up the hill the guy next to me raised his fist in the air and yelled "FREEDOM!!!" and a bunch of us started to cheer and roar. It was an amusing Braveheart Moment. It appears that we were too far down the hill for the video camera to catch it, but it was pretty awesome and a sight to see as is evidenced by the following video.
Of course, we were out running a race with an uphill start and another climb up the side of the same hill so that we could run down to the finish wearing wool kilts on a day that broke the standing 35 year record for heat in the Seattle area, so it was not easy, and we were all feeling the strain. Hey, any race you can walk away from right?
I started out WAY too fast. My Garmin tells me that at some point I was running a 7:22 minute mile pace. I was going to pass out from heat, pain and being out of shape if I kept that up. That hill at the start got me all hyped up; I'm sure that was part of the problem as was trying to jockey for position on narrow parts of the trail. I needed to get out of the dust that was getting kicked up on the gravel portion as quickly as possible.
By the one mile mark, I slowed way down.
By the two mile mark, I realized that I had not slowed down enough and that the heat was making me queasy.
On the out and back portion of the race near the end, I was sure that 3.1 miles would never come. At this point I was starting to get dizzy, nauseated and to see spots.
Finally, we made that last climb up the side of Kite Hill for the downhill finish.
As I descended the hill, I actually got a chill and broke out in goosebumps which was not a good sign considering how hot it was. The last time I had one of these, "Wow, this is the race where I'm finally going to vomit at the finish line" moments was at the Bolder Boulder back in 2003 when a registration screw up caused me to have to start in a much later wave (without my friend who I went out there to run the race with) when the temps and humidity were both in the 90′s and I was so frustrated and mad that I ran my 10K PR. I was able to keep my breakfast down and stay upright in both instances, so it's all good.
They had coconut water at the finish line, which is GREAT for hydration and is less likely to trigger vomiting than ice cold water, so I slowly downed one of those while I waited for Carmel to finish.
It didn't matter how crappy I felt, it was her first time and I needed to be there yelling my head off and cheering for her (with the obligatory high five as well) at the finish. (you always remember your first
She came in with a great first 5K time.
My time was 33:54 which was a bit disappointing, but considering I had only logged in 38 training miles, was in a lot of pain and the heat was killer, is not all that bad.
This actually put me in 13th place in my division (out of 45) 47th out of 153 women and comfortably above the average finish time of 35:39, so I guess I shouldn't feel too bad about it.
We met up with Caroline and wandered over to the beer garden for some cold, tasty Scottish Ale and enjoyed music, comraderie, and flybys from the SeaFair jets.
The heat must have taken quite a toll on me because when I noticed that I hadn't turned my heart rate monitor off, I saw that almost 40 minutes after the event, my heart rate was still up to 122 bpm which indicated some pretty significant stress on my system.
I spent the rest of the day drinking water and coconut water (well, after two farm visits on my way home) stretching out my angry hip and hamstring, and resting up.
Luckily, the combination of softer surfaces kept the hip aggravation to a minimum and I felt better by the time I woke up this morning.
I felt pretty good on today's run (I found some newer shoes and wore them), so it's all good.
Next stop…
IronGirl Seattle 10K followed by the You Go Girl Half Marathon in Tacoma.
~L