~
Last week, I took a big step in my glass blowing.
Since I have a break between classes and don't want to get rusty, I was able to talk a friend of mine into renting some hot shop time with me.
Michael is way more experienced than I am; but he is out of practice, so it was helpful for both of us. Sonia joined us and ran doors and served as "creative consultant" (which basically means that she tells Michael what to make and he makes it
So let's get the "blowing" jokes out of the way.
Here is Michael blowing for me.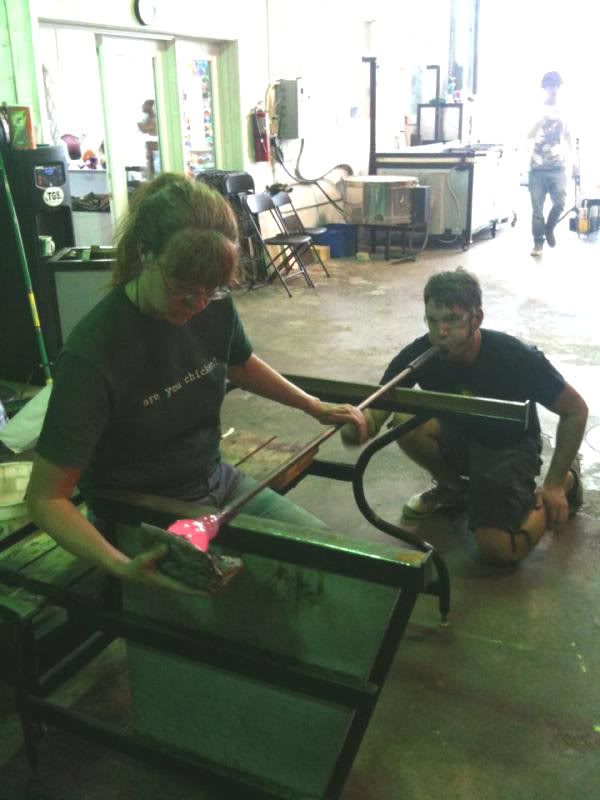 and here I am blowing for Michael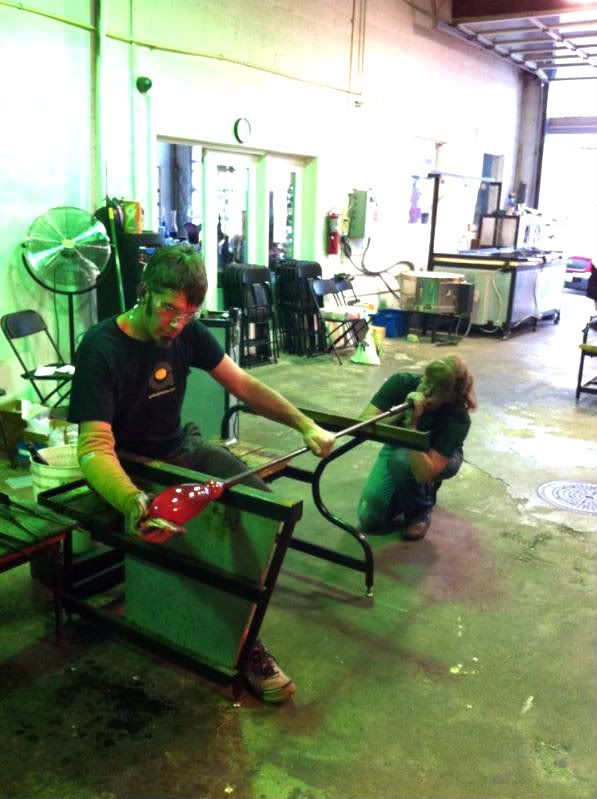 The expected/obvious jokes were posted to Facebook from the hot shop.
Working with someone more experienced is super helpful (and it helped Michael to talk me through things he'd recently been refreshed on) but it's not the same as having an instructor.
Something one doesn't have to do in beginning glass blowing classes is "play catch" and then put glass in the annealer.
I suited up in the hot shop sweatshirt (with hood over my hair) a welders style face mask and big, fat asbestos gloves to gently cradle/catch Micheal's first piece when he broke it off the pipe. Then I had to get it into the annealer as fast I could so that it would not crack. When trying to load the far back, I heard a sizzle. Just enough of my hair was poking out the side of the hoodie to burn.
Added to the list of "weird things overheard at the hot shop" we can add, "You smell bad" (referring to the stench of burnt hair) which was spoken to me as I was working the furnace door while Michael was gathering.
At the furnace, another classic line was uttered, "Don't just stand there and watch me strip, close the door, you're cooking me here." I was watching with great fascination while extra molten glass was stripped off the blow pipe into the bucket and slacked on shutting the door after the pipe was pulled out.
The first pipe we grabbed was plugged as I tried three times to get a decent bubble, Michael tried several times, and even Jake took a shot at it. We just decided to get a new gather and start over. At least it wasn't me being a loser. Blowing and capping takes time to do well, and I'm still really new.
We both do puntys differently, I like them hot and pointy, and he likes them shorter, blunter and cooler. Since the punty maker is responsible for the safety of the blowers piece as it's broken off the pipe, I did it the way he wanted it done as I do not want to be responsible for dropping someone else's work.
I tend to want to heat the glass more than he does. My first two pieces were easier to cut the jack lines into because I heated them up the way I like them, I had a very difficult time with the 4th piece (the 3rd one imploded because I didn't cool the end well enough and it blew out too thin) because I pulled it out of the furnace sooner than I would have liked based on his advice.
This is where moving from student to artist is tricky; I need to listen to and learn from those who are more experienced, but I also need to learn when to do things the way that work best for me, like heating to the level I find easy to work with, and to say things like "Get your lips off my pipe buddy" (another now classic line) uttered when he was going to be helpful and blow my bubble for me
I managed to get three pieces out of the evening, an ornament (a great practice piece), a bowl and a wavy bowl.
I'm really happy with the wavy bowl and the way my swirl turned out (I used the optic mold)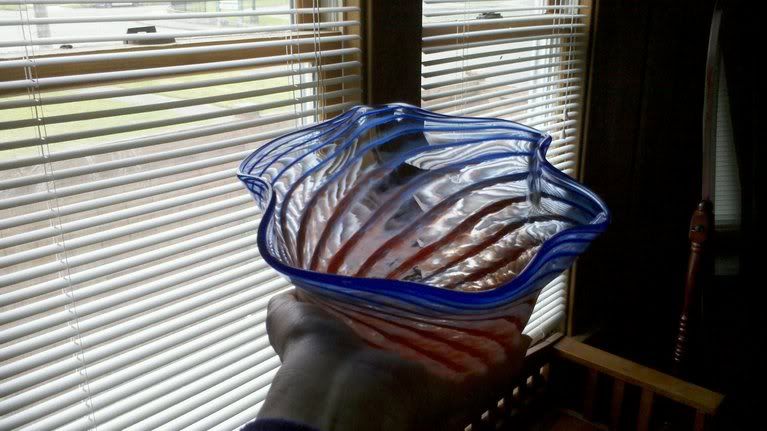 I'm surprised how deep this color was (now that I'm no longer a beginner student with color provided, so I had to run up to Gaffer USA to buy color and I got a sample pack)
I did have to grind the bottom of the blue bowl a bit to get it to sit flat
The ornament ended up a little oddly shaped as I blew it too thin and then flashed it too hot; but it was salvageable.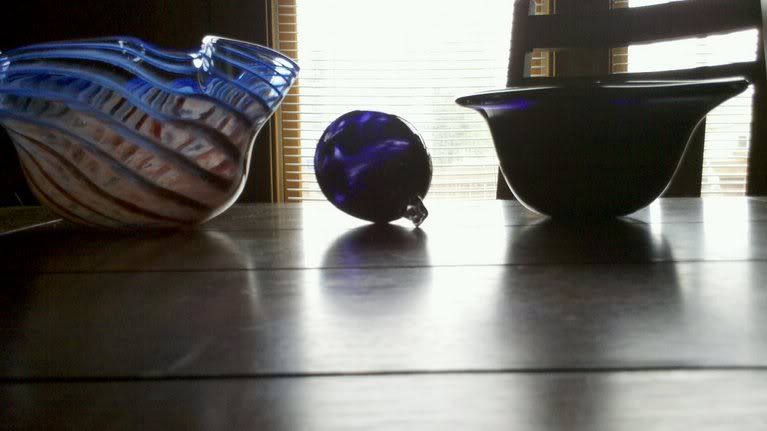 It was quite the adventure and learning experience.
One of these days, I'll be a real glass blower
~L