~
I finally got to play with my metal clay.
I ordered ArtClay copper to play with before messing with PMC (Precious Metal Clay) as I didn't want to make mistakes with silver (forget the gold, that's way out of reach in today's market)
One of the things that attracted me to that particular product is that unlike most copper or bronze clays which oxidize easily and need to be kiln fired in a container with activated charcoal, it can be torch fired.
I have a kiln I recently acquired on craigslist but I haven't had time to test fire it yet. Also, it seems wasteful to fire up a kiln for one or two test pieces.
OK… and it's fun to play with the torch.
The first thing I did was mold a couple of pieces that I wanted to cast in copper.
You can see the mold making process by clicking here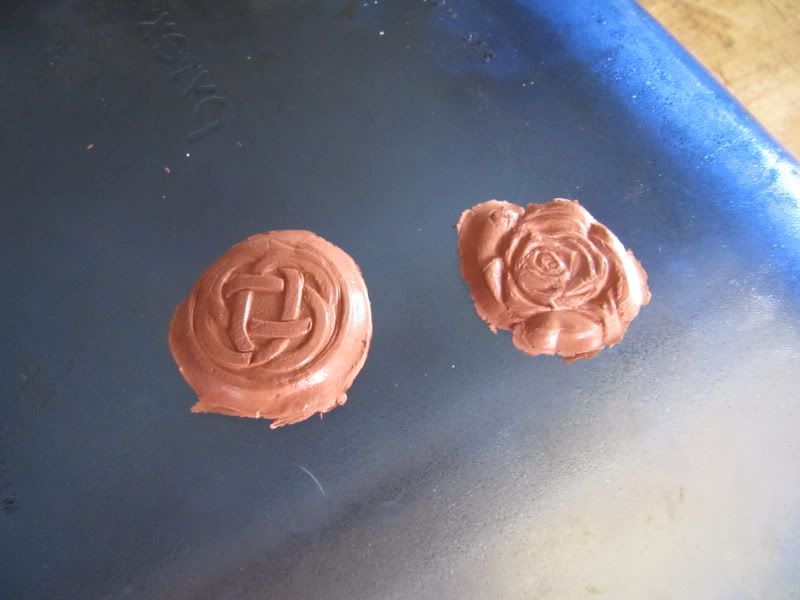 Unlike polymer clay, metal clay needs to be dried completely before being fired.
Here are the pieces after drying completely. You can allow it to dry naturally (usually at least 24 hours) with a hair dryer or in the oven at a temperature low enough so as not to melt the binder.
You can tell if it's dry by setting the still warm clay on a glass or stainless steel surface. If moisture appears, the clay is still too wet to fire.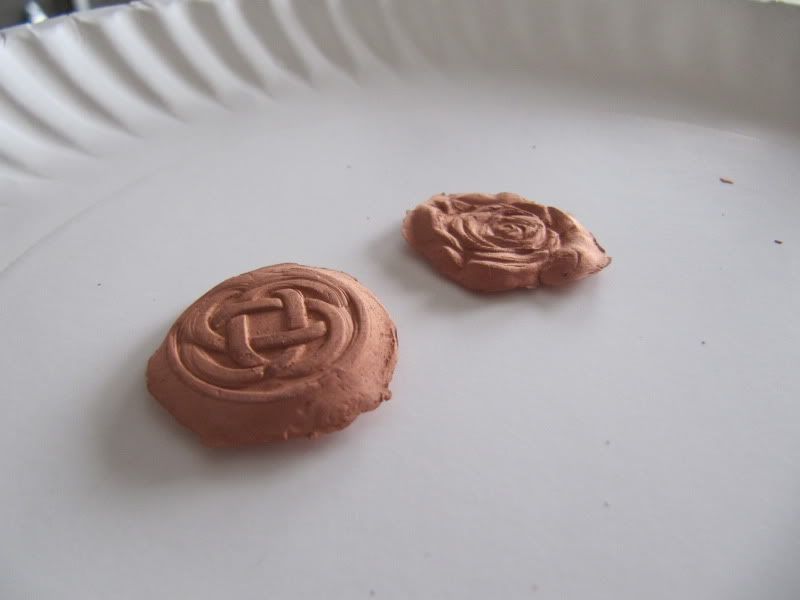 The super fun part it firing up the torch…
Butane is often recommended, but I use a propane torch as it burns hotter.
As the piece gets hotter it will start changing colors.
You want to get it to the red stage and hold it there for seven minutes. If the surface begins to blister or bubble it's too hot and you need to back off on the torch.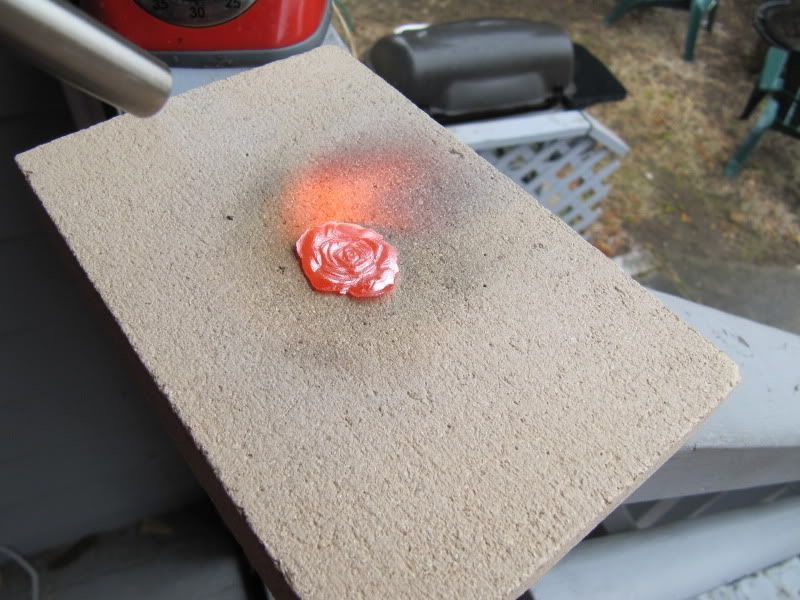 As soon as you're done firing (or even take the torch away for more than a second or two) it begins to oxidize, so you need to plunge it into a pickling solution and boil until the fire scale comes off and it looks like copper.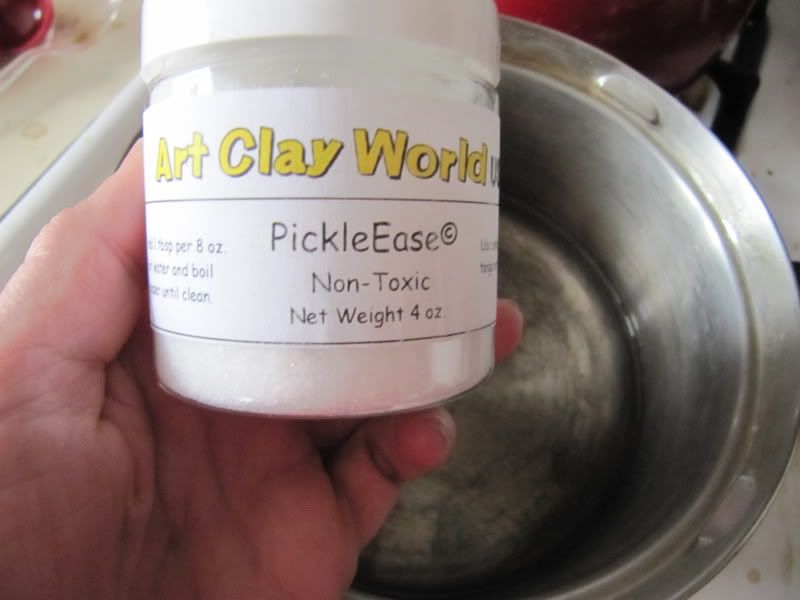 this made a huge, blue gooey mess in my stainless steel pan so I'll be hitting thrift stores to find a "pickling pot" dedicated for just that use.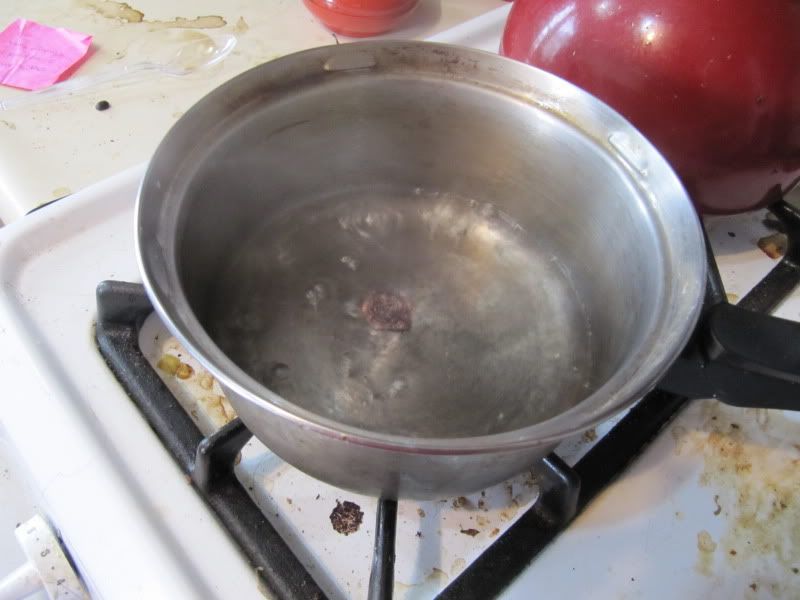 Next was trimming and burnishing the piece. Being lazy, I love using my dremel tool
After you dig all the scaly bits off, it's time to polish.
One thing I did not have was a brass brush which I think would help a lot with the final detail work.
I've ordered that as long as a polishing kit for the dremel tool in order to finish this piece up.
Since I want to work with bronze clay, firing in the kiln (in a container of charcoal) is going to be a requirement.
As much fun as the torch is, it sure leaves a black, scaly mess on the metal which takes a lot of a work/hassle to get rid of. (of course, this won't likely be an issue with the silver)
I learned a lot during my first experience with the metal clay, and am looking forward to experementing and playing with it more.
~L