~
It was a cool, drizzly day and the market was bustling with activity. Shoppers were enjoying a morning of live music provided by Annie Henry, a beekeeping talk by Gary Violette of Heaenly Honey Farms whilst shopping for fresh, local organic produce, meats and cheeses.
Suddenly, the sound of middle eastern fusion music filled the market, and a woman appeared out of the crowd and began to dance.
Soon, more and more women (and one man) emerged from the crowd moving rhythmically to the music; as the tempo changed the dancers began moving faster and playing zills (finger cymbals) as they formed lines as if two groups were dueling.
As soon as it was over, the dancers faded back into the crowd, almost as if they hadn't been there at all…
This non-political event was part of a worldwide effort.
All over the world, at the exact same time (well, except Australia, New Zealand and anyplace else across the international date line who did it the day before) this type of dance, ATS (American Tribal Style) bellydance, to the same song "Bay City Shimmy" (fat chance bellydance version) was flash mobbed.
Some groups wore fabulous costumes, and others like our local Seattle/Tacoma group chose to wear their troupe shirts with some fancy accents that could easily be concealed under coats and jackets lending the element of surprise for the mob.
One Song-One Dance-One World United
You can see video from all over the world on the event's Facebook page.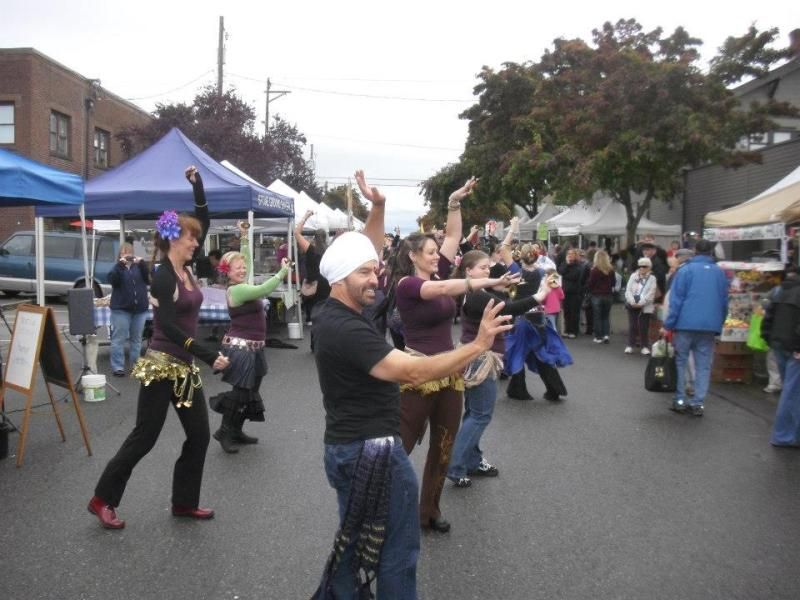 ~L