~
On Sunday, I ran my last race in the 45-49 age group and Carmel raced her first 10K where she didn't do a run walk combo, she ran the whole way!
They had a "pack run" (a mini dawg dash) here in Tacoma, but they didn't offer a 10K option, so we left Tacoma at 0′ Dark Ugly to get up there to find parking (always a "joy" in the U District) and pick up our packets. There's nothing worse than rushing at the last minute so we got there early and relaxed at a local coffee shop (heat and indoor plumbing are big wins on race morning)
Just for fun, we decided to take our photo before we got all sweaty and gross…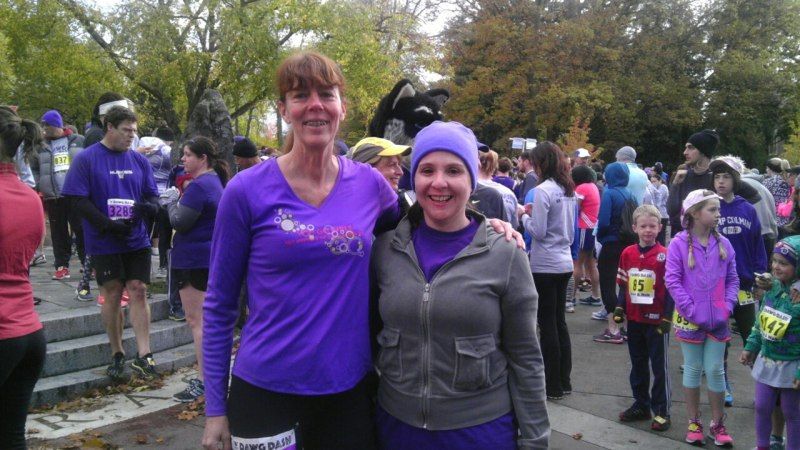 *note for those who are not local, "Dawgs" are the nickname for the University of Washington Huskies; this race is part of UW's homecoming celebration.
The race started on Memorial Way on the upper campus and the post dash bash was in Red Square. UW does have a truly beautiful campus.
It was super cold at the start (41 degrees) so it was a challenge to stay warm.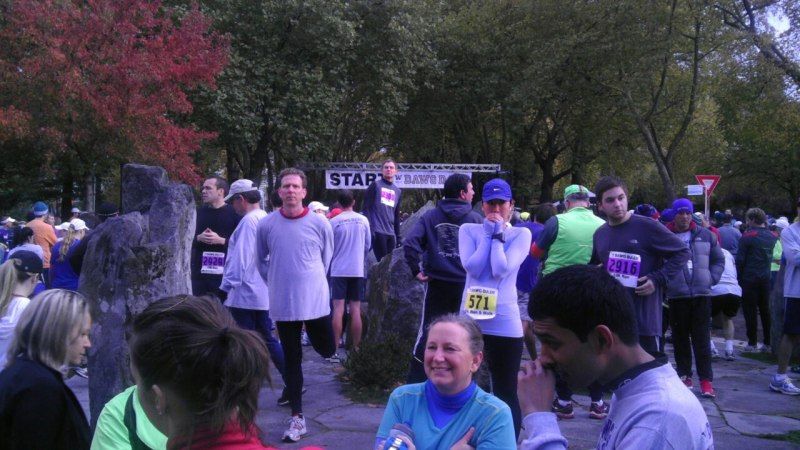 I started dancing around to the music and found myself with a dancer partner. He had some hot moves.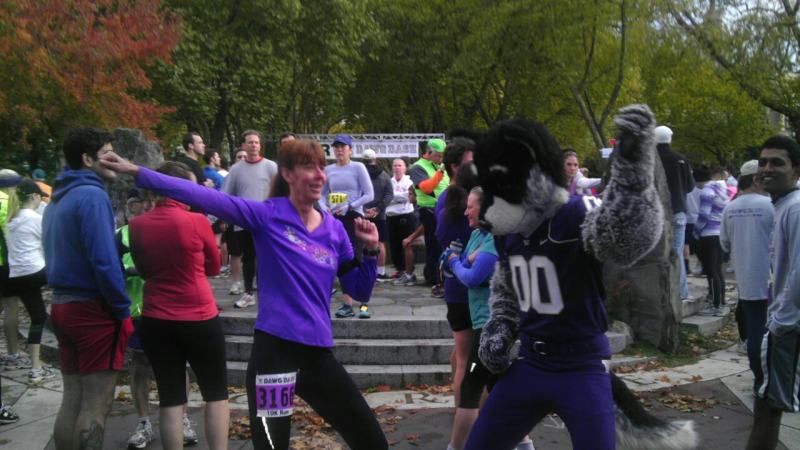 It was a super slow start due to the sheer volume of runners on the typically narrow Seattle streets. Since I was still recovering from a 15 mile long run, had been pushing super hard, had not had a rest day in a week and needed to run ten more miles that day for a total of 16, I decided to take it easy. (not like I had a choice at that point) but it sure would have been nice to break an hour for the first time since all the mom dying, house buying, medical and surgery stuff took me "out of the running" over three years ago.
At one point on the course I saw a woman who appeared to be about ten years older than me and thought to myself, "Look at her go! I'll be back here doing this again when I'm turning 60." She was tall and fit, had a long silver pony tail and was dressed just like me down to the running shoes. I was tempted to ask her how old she was, but didn't know how that would be received, so I didn't.
We ran up through Ravenna Park, on the Burke Gilman Trail and then headed back to campus to the the circuitous loop that comprised the 5K race.
When we got to the fountain the UW Alumni band was playing Louie Louie (*the unofficial state song)
at about 5 ½ miles (when the course was pretty much all incline) I was torn, I wanted to pick up the pace and come in under an hour because I was so close.
Alas, my right hip and hamstring (three of the four pelvic fractures I sustained in the accident were on the right side) began to complain about the pounding they'd taken all week with no rest and my heart rate spiked as well (a result over training and being stupid and having caffeine that morning) so I had to back down.
I managed a weak sprint at the finish and came in at 1:01:10 which is five minutes faster than my Iron Girl time (and this was a harder course) so I'll take it.
I tried to do a slow easy ten miles to make it my long run when I got home, but after less than a mile of pathetic hobbling, it was apparent that my hip and hamstring would not allow it and that I would badly injure myself if I tried to push.
Yesterday was a forced recovery day.
I'm riding my bike to work and bellydancing tonight, so today won't be total rest, but my hamstring (which is quite a bit better) is still cranky and needs another day off of running. I can't afford an injury this close to the Seattle Marathon, so I'm going to behave myself.
I also don't want to be limping around pathetically on my birthday run with the Tacoma Runners on Thursday night.
Next 10K, I'm breaking that hour mark and walking away without limping (because I'll quit being a moron and over training and will take some rest days)
~L