~
My plan to make my triumphant return to the Seattle Marathon, ten years later didn't happen.
Seattle was my first full marathon. I ran it to celebrate turning 40 as well as the five year anniversary of learning how to walk again after the accident that fractured my spine and pelvis.
Little did I know when I signed up that it was a bad first marathon; the combination of almost the entire course being joint pounding concrete (versus asphalt which believe it or not is much easier on the body) the hills, the worst of which come in the 2nd have of the race when glycogen stores are depleted, legs are wobbly and lactic acid is built up and foul weather (snow, ice, rain, freezing rain, sleet, hail, frigid wind whipped waves crashing over the I-90 floating bridge) make this one of the most difficult marathons in the country (even the Kenyans don't generally run it)
Since that first painful marathon, I have done two other fulls, and have returned to the Seattle to do the half many times over the last ten years (it's a hard half, but lovely and fun) but have avoided doing it as a full for the sake of avoiding injury.
Despite that, I couldn't think of a better way to celebrate turning 50, not having cancer and taking huge risks to rebuild my life back to the way I wanted it than returning to the "scene of the crime" ten years later to run the full again (the pain/memory does fade eventually)
A combination of injury taking me off training and not being able to take time off work to prep and rest made it impossible for me to consider it without risking serious injury, so I decided to bag it. I might have tried to waddle an easier course like Portland or Victoria, but not this course. (DNS = Did Not Start = Did Nothing Stupid)
Then my friend Lynne who was also off training for various reasons decided to go ahead and do the half marathon as a walk/run without pushing. I told her I'd do it with her. Then my friend Julie who was getting ready to sell her registration because she hadn't been training, decided to join us for a fun day of acting silly and hanging out with our running friends.
This was perhaps the best weather I've had for a Seattle Marathon (full or half) in the ten years I've been doing these. No snow, ice, freezing rain, hail, sleet or icy crashing waves. Yes, it was cold, but quite bearable.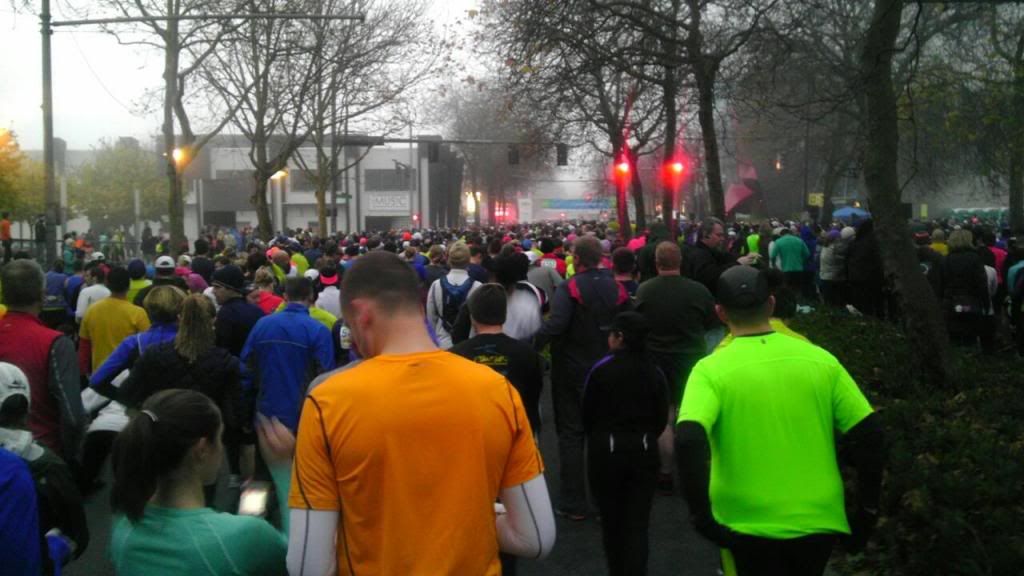 very Unlike in 2006 when Knut and I stood in the snow, shivering in black trashbags at the start…
Since it was going to be more walking than running, Julie and I decided to go in costume. Seriously, there are just not enough good opportunities for grown women to wear tutus and tiaras, so we create our own.
In our colorful costumes, including a pink wig for Julie and my green/black "green fairy" wig, we hit the streets of downtown Seattle for some no stress, no injury fun.
This is the first race where I had absolutely no worries about time. I didn't care, I was just there to see friends and have fun. I'm lucky I was with folks who wanted/need to walk part of it, as I would have pushed myself too hard had I been alone (that's how I ended up injured in the first place)
When we saw the traffic control folks holding the sign that said "SLOW" we knew it was the perfect photo op for us so we stopped.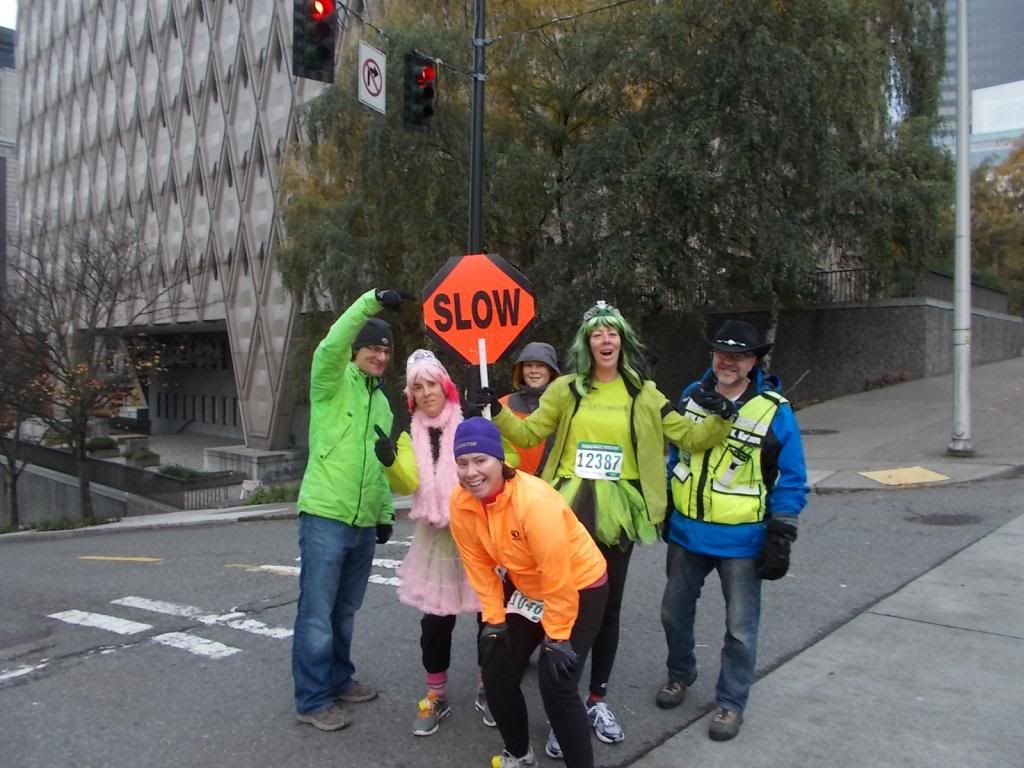 Kevin put his bike in his truck and drove us down the hill from Julie's house to drop us off at the start line. He was going to go for a nice long ride, but decided to hang with us on the parts of the course he could get away with riding on and take photos for us.
Here's a shot of me getting a shot of Kevin getting a shot of us…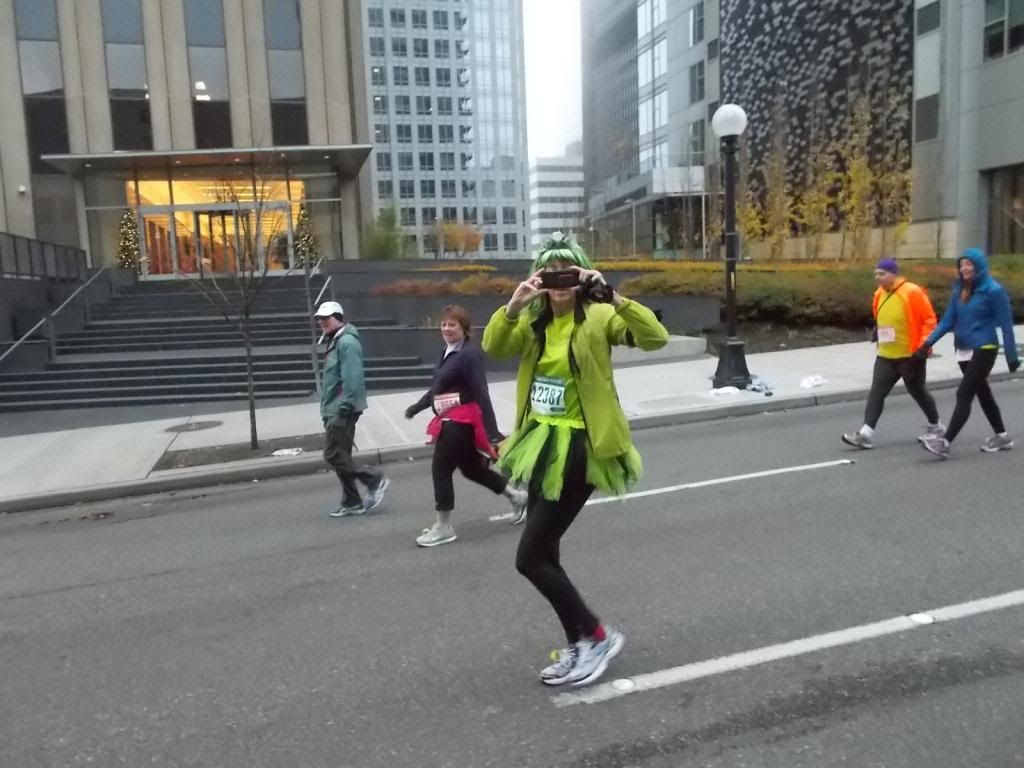 When we were on the express lanes of I-90, the marathon runners caught up to us. Julie was like a cheerleader on speed yelling and cheering them on as they went past.
I had been lamenting about not bringing a fleece vest and instead having a really uncomfortable, non breathable jacket, when there it was… sitting on the Jersey barrier along the interstate express lanes, a nice windblock fleece vest, in a color that matched my outfit no less (runners often bring old or thrift store sweatshirts/jackets/vests to start out in and then ditch when they get warmed up. Julie picked it up and said, "Do you want it?" I asked her what size it was, certain that it would be an extra large (I can't stand wearing stuff that flops around when I'm running or biking) and lo and behold, it was an X-Small L.L. Bean windblock vest, and a perfect fit. SCORE!
By the time we got down to the lake and up to Leschi Beach we couldn't feel our fingers (and my tushie was freezing as well) so we stopped off at Starbucks (how typical Seattle was this move eh?) We had lots of fun chatting up the cyclists that were in there, getting caffeinated and warming up. This whole not running for time thing was pretty fun.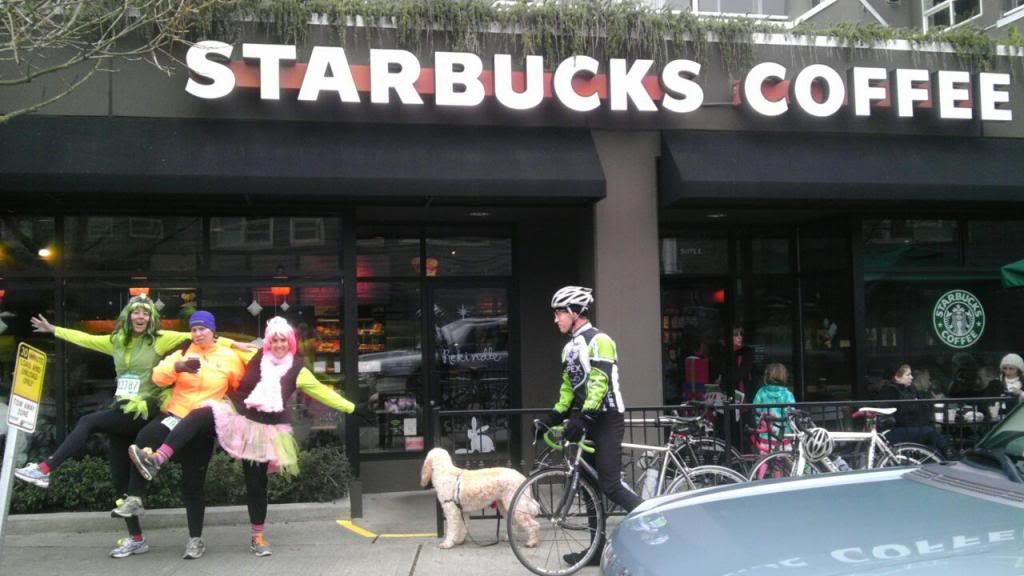 It was beautiful down on mist shrouded Lake Washington, very reminiscent of the way to Avalon. As a lone kayaked paddled by through the mists, I wonder what he was thinking when he saw two tutu and tiara clad women running past. "We are the fairies of the lake!" I shouted. At least no one tired to hand him a sword 😉
All lovely runs along the lake must end as we approached my (and pretty much everyone else's) "huckleberry" frikking Galer St.
For those not from here this area was carved by glaciers and volcanoes; there is no flat ground and many of the hills are crazy steep.
Galer is a brutal, vomit worthy hill that comes at the worst possible point in the course for physical performance/recovery. I have always hated that hill which turns more runners into walkers than not. (note, I've never walked it, but have slowed way down and felt like crap)
Julie had already been running the downhills, which my injured hip and hamstring were not going to tolerate, so I decided that the best way to stay together was to run the uphills, starting with this, my nemesis. The hill I hate more than just about any hill anywhere else (yes, even worse than biking up the 25th St hill in Tacoma)
So there I was, in my tutu and tiara, yelling, "I hate you hill! I've hated you for ten years and today I'm making you my BITCH!"
Off I went, full speed ahead, no break in stride, no giving into the angry quads, burning lungs (frigid air and fireplace smoke don't help) up that hill passing people right and left to the sound of cheers from bystanders until I was to the top where I turned around defiantly and soaked it all in. Yes, I'd made Galer my bitch (whilst dressed like a fairy princess).
Lynne said as the crowd at the bottom was watching me attack this thing, one woman turned to her and said, "Wow, she was really angry." Lynne had fun with that one for the rest of the day.
The arboretum was another opportunity to stretch out my legs and get some actual running in. My favorite part of this course is running across the top of Interlaken Drive
Is this not a gorgeous marathon course?
as if the road its self wasn't stunning, check out the view…
As we came down the other side, downtown came into view (for those who are not local, the Space Needle is at the Seattle Center where the race ends, so the goal is to head towards it)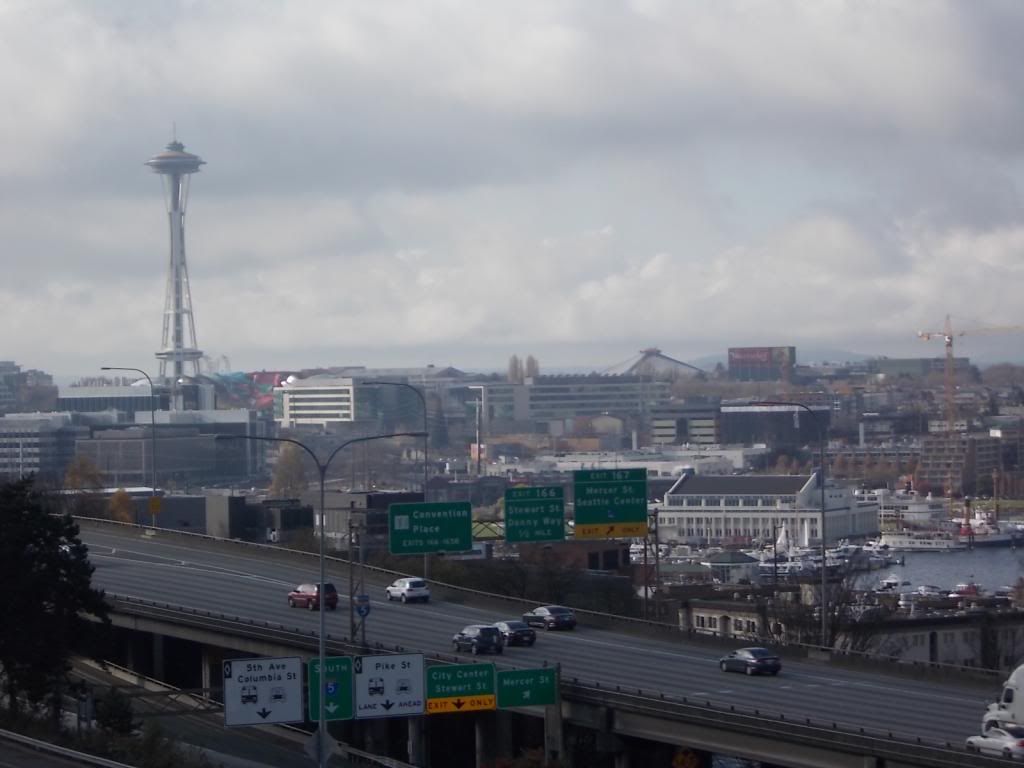 At the last water stop before the drop downtown, I got a nice surprise hug from my Tacoma Runners friend Doug who was working the water stop.
an amazing thing happened as we headed back down the other side… the SUN came out (seriously folks, this is BIG news up here in November)
At mile 25 for the full marathon (around mile 12 for the half) we had to stop for the obligatory "God Save The Queen" shot… for those who aren't aware of this tradition and that the original marathon wasn't 26.2 miles, you can click here for the real story of how modern marathon distance came to be and why we yell "God Save The Queen" at mile 25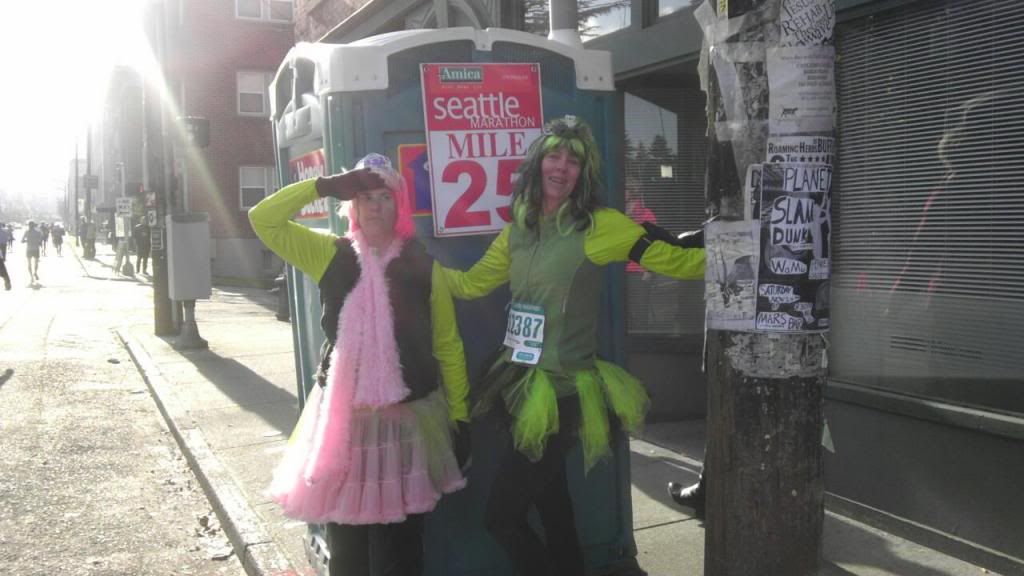 We had a warm, sunny finish at Memorial Stadium (which I am so glad has not been torn down yet, the marathon finish will never be the same once it is)
Just after this photo was taken by Kevin, we had to sprint the rest of the way across the field to hit the actual finish line. We may not have been running this for time, but by golly, you make a show with a big sprint to the finish for the crowds. It was a bit like being in a parade as everyone loved the costumes so Julie and I were doing our prom queen waves for the crowds.
Then, I saw her…
About 100 yards before the finish, Lynne decided to open up the throttle, and was gone like a shot. "OH HELL NO!" I yelled and sprinted after her as hard as I could, catching her just as we crossed the final timing mat together. I'm sure that was a hilarious sight in the tutu. I can't wait to see those photos.
We all got our shiny things and I got the best thing I ever spent money on, a sports recovery massage. Then we headed back up to Queen Anne and enjoyed some well deserved pizza and beer.
~L