~

Welcome to "things that make me go Squee".
I was way too sick yesterday to even consider venting for WTF Wednesday, but I'm ready to squee with glee anyway.
In honor of Pop Fiend's attempt at decreasing drama for at least one day a week on LiveJournal by promoting "Drama Free Thursday" (for those who aren't aware, my blog is crossposted to LiveJournal, my self hosted WordPress blog, Blogspot, and Facebook), I offer up my own "special" (in a rode the short bus kind of way) contribution, "Things that Make Me go Squee!!!
* Things that make me go squee!" may has become a regular Thursday spectacle production because "Squee" rhymes with "Drama Free", and I'm trying to do my part.
I think that almost everyone occasionally forgets to celebrate and share good things. I know I do. Given the challenges of the last week and a half, I need to squee this week.
So in the spirit of putting "good juju" out there, here are the current things that make me go "SQUEE!!!"
after all the backbreaking work of planting (and cold, wet, frozen weather) the first signs of spring are appearing.
My first daffodil has sprung.
Yes it is likely to snow his weekend and supposed to snow next week; I like taking pictures of daffodils in the snow. (pretty common around here)
Due to popular demand, I'm placing one last calendar order
You can pre-pay me in person, or better yet use the link provided below and pay with credit card or pay pal.
Sorry, I can't "hold one for you" any more.
I have to pay for these when I order and people still owe me money for the last batch of calendars. I'm a single person with a mortgage, this stuff adds up.
I will place the order on Friday.
You can order by clicking here
I finally finished my first knitting project. It's not perfect and there are mistakes, but I'm pretty pleased with it.
I had an awesome New Year's Eve; attended three events, and still made it home in time to watch Space Needle fireworks with a champagne toast.
I've been sick (hence the fact that these are "snotty" squees) but I think the worst of it was last night (and trust me, it was BAD yesterday afternoon and last night) so I must be "over the hump" and on my way to getting better.
As my friend Mary pointed out, it's a lot better to be sick in my quiet, lovely home than it was in that hellhole apartment with the scummy neighbors.
Oh, and I haven't brought out the "Snot Monster" icon for a while, so here you go… (you can thank me later 😉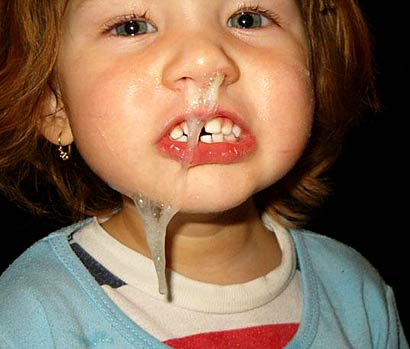 Now if you'll excuse me, I need to go use my neti-pot.
And here are little smilies for all the squees left unsqueed
And of course, the greatest squee of all…
I am blessed to have really GREAT friends in my life
And you can see a lot of them here… (if I don't have a picture of you here, send me one)
Insert "squee" of your choice here
I wish everyone a happy and drama free Thursday, as well as lots of things to go "Squee" over.
SKA-WEEEEEEEEE
~L
Mood: Gotta Squee


~