~
OK, here's the long awaited race report.
Oh, and this was my first time in the 50-54 age group. USA Triathlon regulations specify that you race in the age group you will be on Dec 31st of that year. Since I turn 50 in a few weeks, it was my first race as a fifty year old. Woo Hoo! New age group for me!
For a comprehensive list of every thing that went wrong, you can check out my blog about how not to do a triathlon.
I did do several things right, one was using natural "real" food for electrolytes/hydration. I used blackstrap molasses instead of energy gels and coconut water in place of sports drinks. I'm very pleased with both choices.
I overslept just a bit, but arrived at Meridian Lake in plenty of time to pick up my packet, get everything set up in my transition area and get through the port a potty lines. Come on race directors (all of you) you've got a bunch of athletes who've been hydrating like crazy, drinking coffee like mad (this is after all the Pacific Northwest) and really need to take care of other [ahem] bodily functions before squeezing into their wetsuits.
It was a lovely clear morning with steam rising up over the water.
I did the Friday Night Swim Race here the previous week so I knew the course which made me more relaxed and confident. I did one open water swim at Steele Lake the previous week and wasn't feeling too good about my swim performance, my technique was terrible so I was working way harder than I needed to and was pretty darn slow.
This is something about having buoys to site on and other swimmers in the water that put me right back into the "tri zone". I was not fast at the swim race, but I came in at just over 20 minutes (and that included getting out of the water and running up the ramp)
On race morning even though I was not at my best physically (see aforementioned blog post) once we were off and running (errr… swimming) I was really "in the zone". I started and stayed in the back. It wasn't too long before I started to pass people (those who started out too fast) I wasn't swimming fast because all I wanted was to get through the swim with enough energy left to complete the bike and run. But I really felt good, relaxed, in control of my breathing, and with pretty decent rotation.
After the third buoy I found myself in a "swimmer sandwich" getting kicked in the head by the gal in front of me, and kicking whoever was behind me in their head. Such is the way of things. I wasn't giving up my line.
I exited the water at 21:17 almost a minute slower than my race time the previous week. It wasn't a great time but I sure wasn't last, so I'll take it especially since I was trying to conserve energy and had to stop and fuss with my goggles.
Next was the bike.
My transition time wasn't great, 3:11:09 but it certainly wasn't terrible and I made sure to get some more blackstrap and coconut water down. I do need to work on getting out of the wetsuit more quickly and would be better off getting my bike shoes on if I dried my feet off a bit before putting my socks on.
The course was mostly rolling hills; I was able to get some extra speed and stretch out a bit on the aero bars. My friend Russ recognized me from behind (I was pretty easy to spot with the word "Hammer" emblazoned on my ass in bright pink lettering) so we chatted a bit on the course.
There was one super nasty hill (worse than the hill in downtown Portland on the old STP route) which had volunteers stationed at the bottom to warn us to gear down.
as you can see, four out of five cyclist in this photo could not get up on their bike…
You KNOW it's ugly when I come up off the saddle (I'm normally a sit and spin girl)
I took 1:03 to get through the bike course, which while not my best time, was not terrible according to my time, I averaged 15.5 mph which included the mount and dismount areas and getting in and out of transition. My bike computer says that I averaged 17 miles per hour which isn't bad.
My T-2 transition time was pretty decent at 1:46:6 and I was off and running… Literally. I of course had a wicked case of "rubber legs" after getting off the bike and was just determined to finish this thing upright. I did have to make a short visit to the bushes which didn't help my time any, but 35:14:06 was not horrible for a 5 K, especially after swimming and bike racing first.
I raised my arms in the air in triumph as I crossed the finish line right after this pic was taken.
Total time… 2:04:35:09 Not stellar, but not really that bad.
I almost cried. I had done it. I had overcome all of it, the hemorrhaging, the weight gain caused by not being able to work out for almost two years, the arthritis and scar tissue in my spine and pelvis which also got worse during that time, the stress, the dangerously high blood pressure and two surgeries.
I may not be fast, but I'm back and this triathlon medal means more to me than all of the others combined.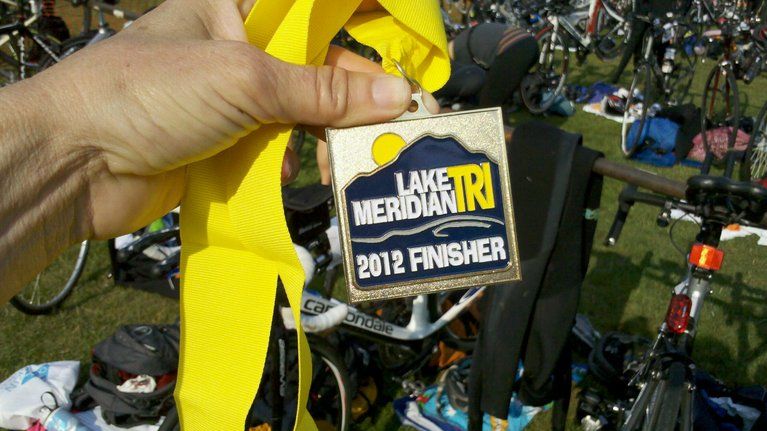 Oh, after a quick nap, I rode out on the RAPSody bike course to meet up with my long time ride partner Leo and ride a few miles in with him since I wasn't able to do the ride this year and missed the rest of our usual rides reffing together for CBC.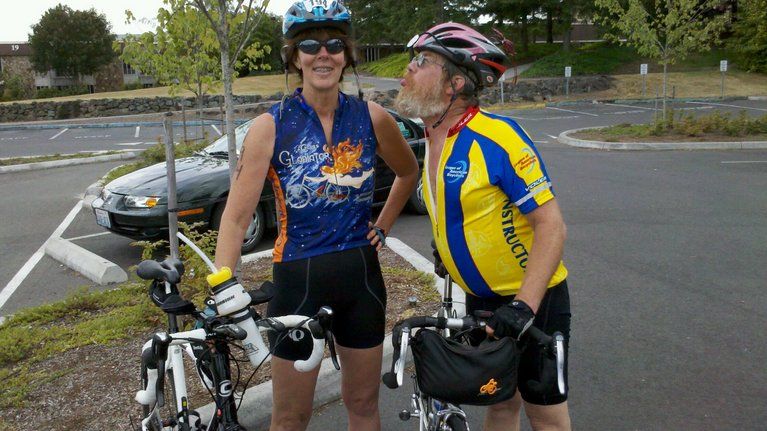 I slept well that night!
Next up…
the Iron Girl 10K
the You Go Girl Half Marathon
and if I get through that uninjured
the Seattle Marathon.
Seattle was my first full marathon which I did when I turned 40 to celebrate that and learning how to walk again after the accident that fractured my spine and pelvis.
It seems fitting that I should do it again when I turn 50 and to celebrate overcoming my recent obstacles.
~L