~
Since I had to miss Chilly Hilly, Flying Wheels and STP due to surgery recovery and only got to ride the last few miles of RAPSody, I was not about to miss an opportunity to spend some quality bike time with my biker scum crazy cylcist friends.
The Kitsap Color Classic was last Sunday, so I rushed around like mad that morning (after a 12 hour work day the day before) and got out the door 15 minutes later than I had planned, and crossed the Narrows Bridge into the hilly wilds of the Kitsap Peninsula.
My cycling buddy Bill who I haven't seen in longer than I can remember also decided to join us and rode over on the Ferry from Edmonds where he spent the previous night.
This ride has two starts; one at the Edmonds Ferry dock and another in Kingston at the other end of the run. About 2/3 of our little group were coming over from the Seattle side, so we arranged a meeting place at a little crepe shop just up from the ferry dock on the Kingston side.
In addition to leaving the house way too late, I realized almost immediately upon crossing the bridge I hadn't been paying attention to my fuel tank. With the red "check gauge" light glaring at me, daring me ("Do you feel lucky? DO YOU?) to go just one more exit for a better price/easier access, I finally pulled over in Silverdale.
Looking at the clock I realized I was going to be seriously late after having to stop for gas.
When I got back on the highway, I realized that I had absolutely no idea where the Kingston Ferry Terminal is, more or less the registration area/food stop which was two miles up the road.
I managed to take the correct exit and catch the left turn that took me towards Kingston/Port Gamble and away from the wrong ferry (seriously, this place is lousy with them)
Once I got close to Kingston, I could tell that the ferry had just unloaded as there was a stream of cyclists descending on the unwary inhabitants of this normally quiet area.
I noticed one particular rider, a hairy legged guy wearing a festive autumn inspired tutu… I knew Kevin had made it on the ferry. (he looks pretty manly in this thing if you ask me)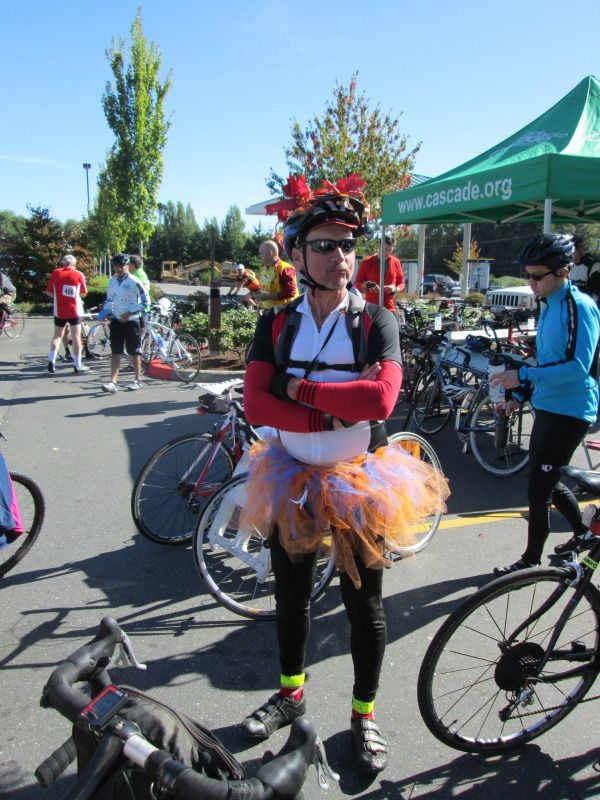 I found the crepe place easily, parked and walked across the street to see my friends gleefully stuffing their faces.
I hadn't seen Julie in far too long and we stood in the middle of the street in a long embrace. Mind you, this embrace was quite interesting to behold as we were both wearing bike gear and brightly colored, sparkling tutus… I can hear the locals now, "Earl, just look at that shameful display… Those must be some of those heathen naked cyclists that hang out in Fremont."
Since I was so late, I didn't want to delay the group by ordering, so no crepes for me this trip. I got back in my truck and headed up to packet pickup. Due to barriers down near the ferry dock, I had to take a back road, got turned around and realized that I was hopelessly lost in Kitsap (as long as I didn't hear banjos, I'd be OK)
I finally found my way to the registration tent and arrived about the time Bill did. He hadn't seen me since I lost all the weight from the medical surgery stuff, so he looked at me and said, "You don't have any boobs".
"I never had boobs Bill, now I'm just skinny again and don't have boobs." What a gentleman eh?
Seriously… Who's "the boob"? 😉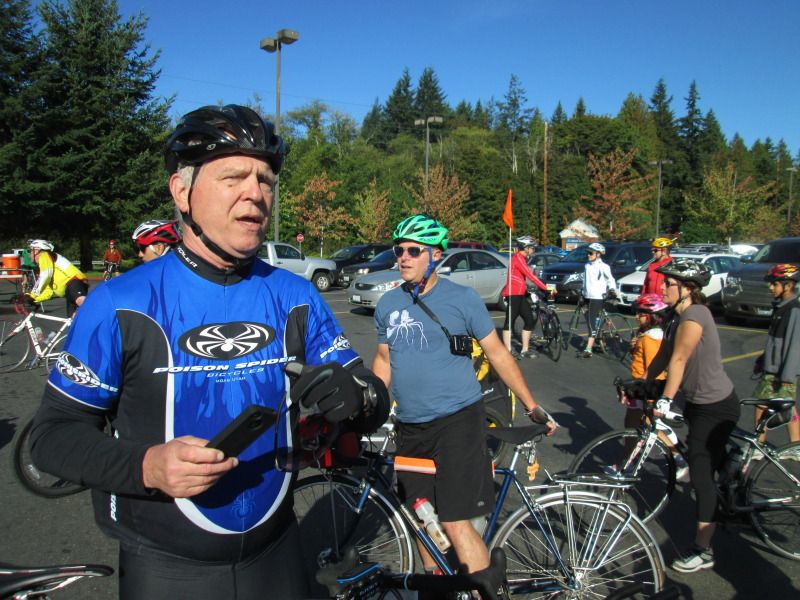 Of course, Leo made an equally appalling social faux paux and actually lifted my tutu… (I guess that's the male version of a woman lifting a man's kilt?)
What a scoundrel eh?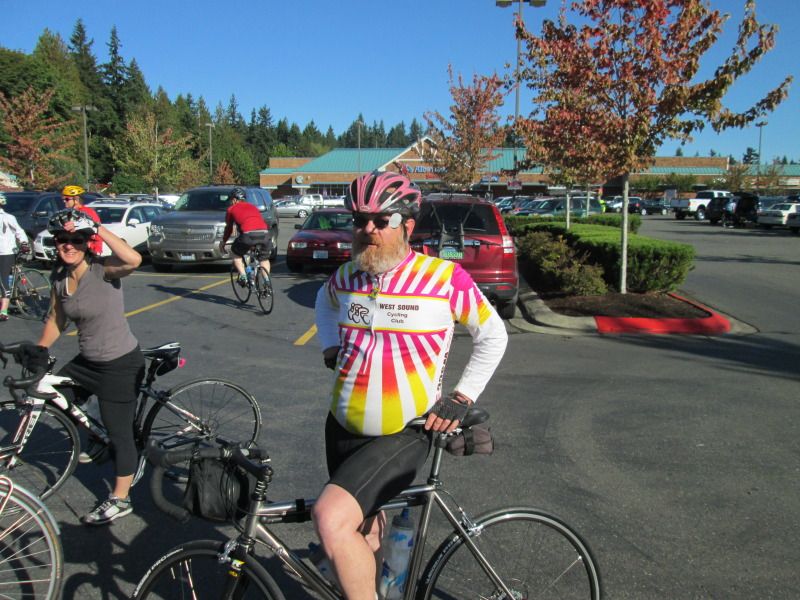 After the obligatory shenanigans at the start line, we (Leo, Julie, Bill, Eric, Paula, Ann, Mike, Lynn, John and myself) headed out on the Hainsville Loop. We were actually shooting for the longer and less painfully hilly Port Gamble loop but were so busy talking and laughing we missed the Dan Henry for that turnoff (this ride has three loops of varying degrees of quad destroying hills and mileages allowing you to customize your ride with any combination of loops).
The first couple of miles was a hill (there is no flat ground out there, it's even worse than Tacoma in the hill department)
After some ups, downs, twists and turns, we made the descent into Hainsville… (and yes, the climb back up and out was a bitch)
We found a lovely little scenic view spot and pulled over (well, all except for bill who never slowed down at the base of the screaming hill and never knew we pulled over)
Mt Baker is in the background here somewhere, I suspect that Leo's butt is blocking it. We look like we're on a day pass from the asylum don't we?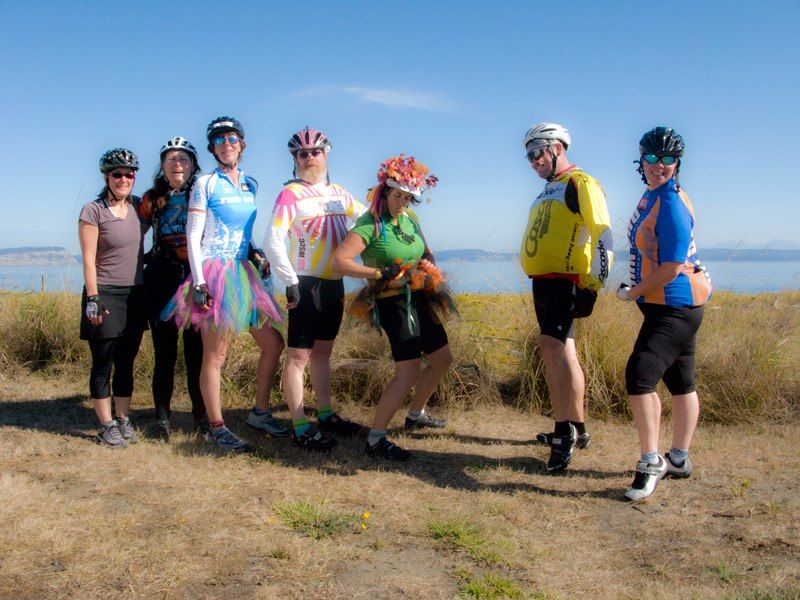 This particular shot has been described as "the worst super hero team photo ever" (Leo has been dubbed "Sani Can Man")
Lynn didn't have a tutu, but she was quite festive in her Irn Bru jersey (she's from Scotland)
We started the long and ugly climb out of Hainsville after Leo finally yelled at us enough to quit with all the flitting around, socializing and picture taking. This is where I taught Ann the "bike butt dance" which is even better with a tutu to shake; she will have one on the next ride.
There were many more wonderful, scenic back roads and lots of laughter. The weather was absolutely perfect and we were talking about how days like this will be the memories we talk about later in life (you know… when Julie and I are crazy cat ladies knitting… Oh wait…)
Then the hills started back up in earnest.
Leo backtracked and yelled at us (as if he hadn't been yelling at us to quit yacking, get in our big rings and ride like we meant it-I don't think he knows what to do with himself when he's not a ride ref) SHIFT DOWN INTO YOUR LOWEST GEAR!!! DO IT NOW!!!
I don't see him get like that often, so I did it.
The hill did come up suddenly on a blind corner and is probably the equivalent of McCurthchen Hill on the Tour De Pierce and Daffodil Classic rides, but it was nowhere near the 22% grade we had been hearing about, nor the stair step half mile long 12-14% grade that has also been described.
I gave him "the look". He said, "That was it." I knew it wasn't and told him (and everyone else so) and of course, I stayed on the small ring.
Another couple of miles down the road was another sharp turn away from the water, and there it was… The monster, 22% of evil, chain dropping, quad burning, vomit inducing hill from hell. I dropped down through the rest of my gears and dodged those who were wobbling , stopping and walking.
No way in hell was I giving Leo (who was now smirking like a lunatic) the satisfaction of "walking the dog" aka "the walk of shame". I made it up that hill on pedal power (which can't be said for a large number of people) just to spite him.
Leo and I have ridden together for years as Cascade volunteers (he as a ride ref, myself as a medical support rider and as a ride ref) on all the big rides, we've faced a lot of inclement conditions, interesting things, danger, injuries and bonks together and always have each others' backs. We can say pretty much whatever we want to each other (harassing each other for over 100 miles at a time is "our thing") but if someone else crosses the line with one of us, they have hell to pay from the other.
Why do I tell you this? Because after all of these years, and hundreds (no, at this point it's into the thousands) of miles we've ridden together, this was the day that I finally dropped the F-bomb on him.
We re-grouped at the top of the hill and gave everyone a chance to catch up, catch their breath and drink water.
This hill may not look that bad on first glance, until you look again and realize that we were down by the water when we started the climb.
Once back at the food tent, some folks went back out to ride part of the Port Gamble loop and Bill, Lynn and I opted for food and beverage overlooking the water. As undertrained as I was this year, I wanted to finish the ride on a positive note, feeling good.
We ate at "The Filling Station". Lynn and I had what can only be described as "food porn". Roasted garlic and goat cheese with toasted baguette.
It was a lovely afternoon to sit on the deck (and it's amazing how tiny the Space Needle is from there)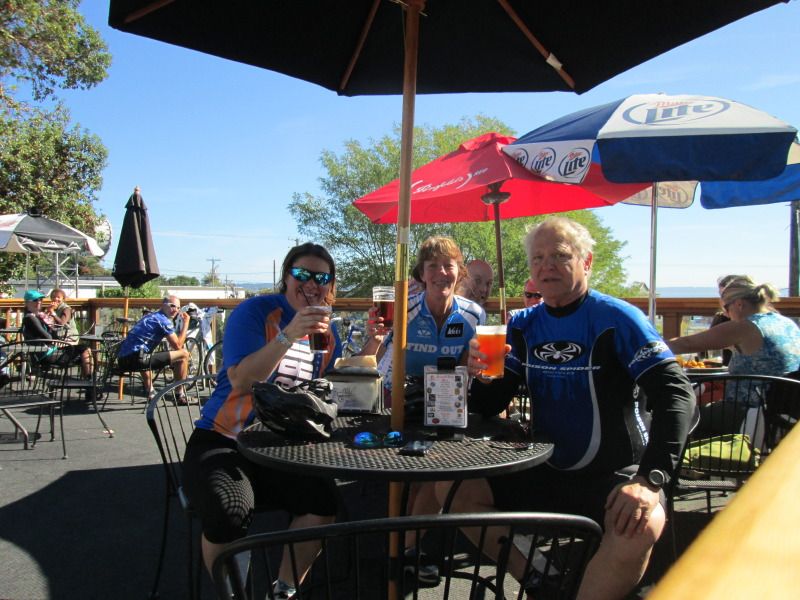 It was the perfect day, with the perfect (albeit batshit crazy) fiends….
The End 😉
~L