~
Why do so many of my blog posts of late involve crazy people invading a town/area and running (or cycling) amok in the streets?
As part of the Octoberfest celebration at the Puyallup Fairgrounds, the TCMA (Tacoma City Marathon Association) organized the first annual Stein Dash.
The dash was a 5K that started and ended near the beer garden (root beer was available for those who are too young or for other reasons chose not to imbibe_
One caveat for this race was that you had to carry your beer stein during the entire race. Luckily, they were lightweight plastic.
I was meeting Carmel, as well as Eric and Rhiannon from Tacoma Runners there. I wanted to get there early enough to pick up my packet, get stuff I didn't need (like the long sleeve shirt I left the house in) back to the truck and not be rushed.
It's a good thing I didn't try to get there too early as I hear that packet pickup opened way late. I'm not sure what was up with this race, TCMA is normally super organized when it comes to this sort of thing, but this one was just chaos. Once you got through the long line into the packet pickup area there were no signs to tell you which way to go (to the left for registration/packet pickup/shirts and to the left for the beer stein. The registration/packet pickup table wasn't signed either, so we had no idea what line to be in. I guess everyone is entitled to one bad day when they are usually super organized. (yes, they advised people to pick up their packet a day early, but some of us work on Saturdays and/or have no desire to waste fuel/time to drive to another town the day before an event)
I was bound and determined to run easy and according to how I felt rather than try to beat a specific time. I was recovering from back to back half marathons I wasn't fully trained up for and needed to crank up my long run distance for the Seattle Marathon and didn't need to aggravate or create any injuries.
I hit my lap button at mile one and discovered that I was on pace to finish this in under 30 minutes (a goal I had on this long road to come back) with a 9-something time for the first mile. All common sense then flew out the window and I decided to keep that pace even though I was pretty sure I'd gone out too fast.
We looped through the ride area of the fairgrounds and then hit the streets of Puyallup. What a sight we must have been to the residents, all of us carrying beer steins. Some wearing beer hats, others wearing lederhosen and dirndl (note to self, acquire dirndl before next year)
It was unseasonably warm and I was beginning to feel it (also, this race started later than most, 11:30 PM, versus many 7-8:00am starts) Did the organizers really think runners had any compunction regarding morning beer consumption? Someone was also burning wood which wasn't fun on the lungs sinuses, so I slowed down a bit on the second mile.
I stretched it out in the last mile, with just enough left for a sprint at the finish…
Why yes… I am carrying a beer stein and I am happy to see you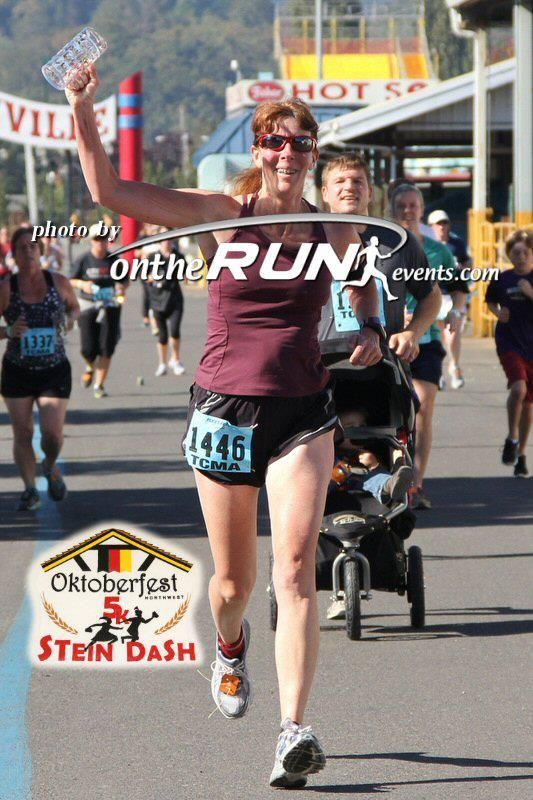 >
Even though I had told myself time didn't matter on this one (half marathon recovery so that I could get through my marathon training is my primary goal right now) I was so disappointed when the clock had just ticked past 30 minute as I crossed the finish line.
But wait! That was clock time, not chip time and it had taken me a while to get to get to and cross the starting mat. My Garmin (and the official results) said that I did it under 30 minutes (just barely, but I'll take it)
Here's the Garmin track.
The official results show that I averaged a 9:40 pace (not bad for a woman recovering from surgery who couldn't even take her trash out to the back alley 8 months ago) and that I was 7th out of 32 in my age group, 95th out of 296 females, and 210th out of 520 overall. At 29:57, I was well ahead of the average finish time of 35:04.
I may not be back to where I was, but I'm making marked improvement and that makes me happy.
I cheered Carmel across the line for her 5K PR and then we met Eric and Rhiannon (who also rocked it and PRd her 5K) in the beer garden.
I had a (yes, only ONE, I was a good girl) Snoqualmie Falls Harvest Moon Ale which was quite tasty. I might have had another if I hadn't been so overscheduled that day.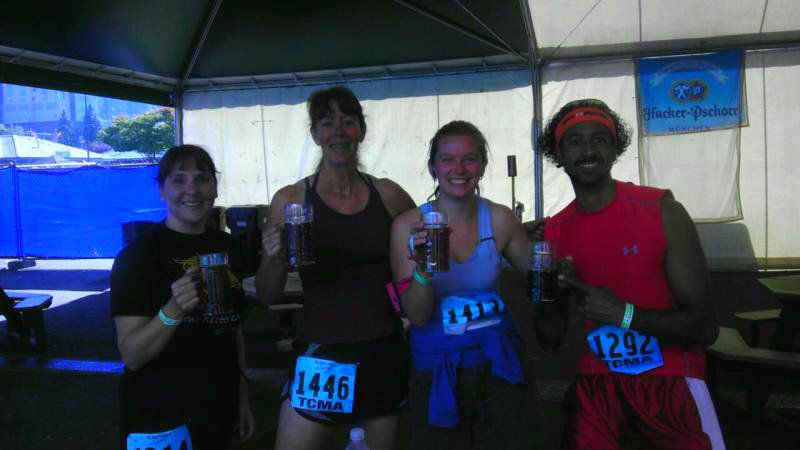 I can't wait to do this one next year. In costume!
Here's a pretty hilarious video of the event… (I want the sheep that gal is riding)
~L