~
Why yes, the catch phrase is dated (early 1990's if my memory serves me) but it is the name of a pretty kick ass half marathon and 10K race event which made it's third appearance in Tacoma last Sunday.
One of the great things about this race is that this year it benefitted the YWCA of Pierce County one of the most worthwhile organizations in town.
I was grateful that for the second time in two weeks, a women's race did Not give us pink shirts. In addition to my disdain for anything that could possibly be perceived as supporting the Komen Foundation, pink is just way too over done.
I was excited to see a super pretty purple long sleeve tech shirt (the Iron girl shirts were more of a lavender color) Apparently, purple is the go to color for women's races this year.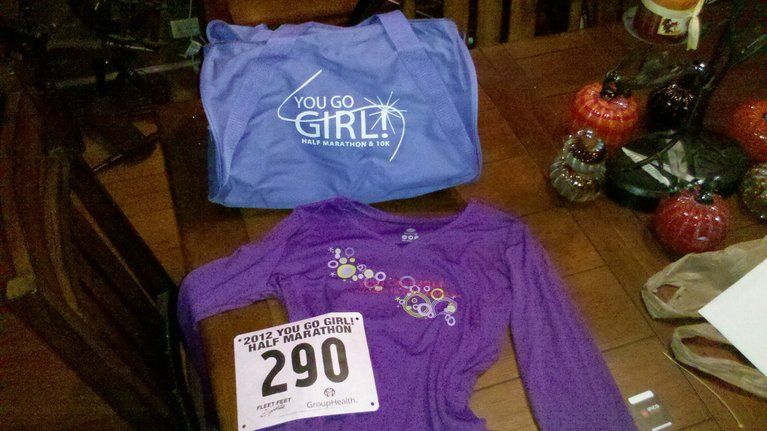 While it is billed as specifically a women's race, men were allowed to enter (and were encouraged to dress the part)
I saw a lot of men, most of whom were supporting wives, girlfriends, mothers and sisters, or on teams that were supporting fundraising efforts sporting shiny skirts or tutus… (honestly, I had some serous tutu envy going on)
I met up with Carmel, Kathleen, Lauralee and Brian at the start. This was Carmel's first ever 10K so it was a big day for her. I believe it was also Kathleen's first 10K (which she totally rocked by the way)
Derek from the Tacoma Runners came by to say hello and cheer us on at the start.
I had been very disciplined in my nutrition and hydration efforts to eliminate the need to waste time (and possibly miss the start) by standing in the port a potty lines and had peed three times that morning before the race, so I was certain I was good to go.
As soon as the darn National Anthem plays, my bladder knows I am at a race and immediately gets excited and wants to go.
I did not have time to entertain such silliness.
I left my friends (who were doing the 10K) and moved up into the 2:30 pace group for the half marathon. Given that I was not properly trained up for this race, was not well rested, and had some old injuries nagging at me, I decided to keep it nice and slow. I just wanted to finish this thing uninjured. This race was about coming back full circle from the health and surgical issues, not about killing myself for a specific time on the clock. (I honestly didn't expect to finish in 2:30; it was my "ideal and I wasn't going to kill myself for it)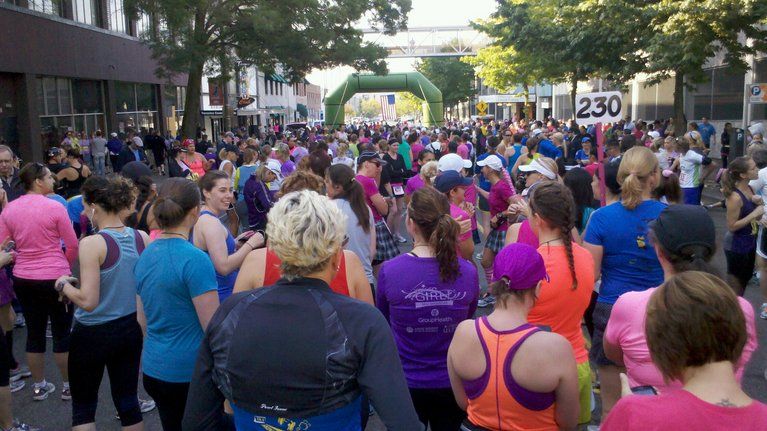 And we were off (for once, a decent race picture of me…)
We headed South on Market Street (from the start at 9th and Market) out to Jefferson where we had a turn around.
This is when the realization that there is no way to "take it easy" during a ten hour work day managing a Farmers' Market that requires you to be on your feet all day (pedometer says I walked 8 ½ miles the day before) and that doing my ten mile long run (they day after a 10K race and way too close to the actual half marathon) did not give my legs even close to sufficient recovery time.
They felt like lead. They felt like angry, stiff, tired lead; but by golly, I was going to do this, so I told them to shut up.
The out and back on this course was not demoralizing like it is on some courses [cough… Portland Race for the Roses… Great Kilted Run…] but was a great opportunity to wave, shout out encouragement and high five friends we didn't manage to see at the starting line. And yes… shouts of "You Go Girl!" were uttered.
In addition to the tired legs, I was uncomfortably warm for that early in the morning. I overheard one woman comment about how hot and muggy it was, and I replied, "Oh, good! I was afraid I was having a hot flash." That comment garnered lots of laughs from the large number of "women of a certain age" who were running near us.
Once we got back to the starting line (which had already been packed up and moved to the finish, my bladder made it known that it was not messing around, so I was able to quickly duck into one of the (now line free) port a potties to take care of business. Of course, even though I was probably in there 30 seconds or so, I lost my pace group, which was probably for the best, considering my legs were so fatigued and at risk of injury.
We headed up a small hill (well, small for Tacoma) into Wright Park and ran a loop around the site of my hamster on a treadmill long run.
I ran into Kathleen in the park and ran with her until after we went down 15th St to Dock Street, she left me in the dust as she headed for the finish like at Thea's Park for her great 10K finish time.
OK, now we've hit the part of the out and back course that was a bit demoralizing. We had to run past the finish line with it's cheering, shiny things, food and drink and run up a series of overpasses for the long haul down Shuster Parkway/Ruston Way.
By this time it was getting warmer out and the breeze off the water could not clear out the horrid air quality from all the fires just on the other side of the Cascades which had put our region into the "Unhealthy for Sensitive Individuals" alert status all week. Several of us got wheezy on our Thursday night run and I could see people starting to have breathing issues on this stretch of the course. I was lucky (and taking it very easy) and didn't have any issues.
This part of the course was another opportunity to wave, high five and shout out support to other runners; it is also where we got our first look at the leaders in the half marathon. I saw my pace group go by and realized that I wasn't that far off (still under no delusion that I'd make a 2:30 time)
There were a lot of very colorful costumes and interesting people to chat with. It wasn't just the men wearing tutus, many of the women were as well. I really should have worn one. How often do grown women have an opportunity to wear tutus? We should seize them whenever possible.
This was an area of the course where loved ones came to offer support (food, water, signs) to their wives, girlfriends, mothers, daughters and sisters who were running the race.
One gentleman in particular (who was not wearing a tutu) was running with his daughter.
The sign said "My daughter Marissa just turned 13 and is running her first half marathon."
What a GREAT dad! I got a bit misty over that one. I yelled out "Great Job Marissa!" and added a "Great job Dad!" to it.
Once I hit the turn around, I knew that I was going to make it (well, I knew I'd make it, even if I had to crawl)
Sadly this was where those who were having issues with heat, air quality, under training, weight started to have issues. One woman who was obviously in distress yelled at her daughter who was offering to run up to her with the cold drink so she didn't have to stop. Another woman when asked by her family how she was doing replied with something less than positive.
I tired to encourage her and tell her she could do this. That's when when she dropped back and I'm pretty sure I heard her barf.
As I was pushing up one of the ugly overpasses one of the Half Fanatic pacers was running back down the race course to cheer some folks on, looked at me and said, "Way to power up that hill." I looked at her, smiled and said, "Hills are my Bitch" and she laughed.
Near the end of the course, on a steady incline there was a bit of shade provided by a wall separating the elevated roadway that we all migrated towards. It was a cruel trick as the wall provided a small sliver of shade, but completely blocked the breeze and radiated heat.
Finally, the final bridge overpass came into view and we could hear the cheering of the crowd.
I had enough left in me for a sprint to the finish crossing the line at 2:38 which was not that far off my ideal time for this race.
Doug from Tacoma Runners was there at the finish to offer congratulations and support.
I found Kelly (we had seen each other on the out and back portions of the course) who was way speedier than me today.
After some water, grapes and visiting, it was time to walk up the hill (no way was I cramming my angry legs into a school bus for the shuttle) to meet Carmel for our traditional celebration of a race well run, Pizza and Beer at the Harmon Tap Room (whilst wearing our medals of course).
Yes, I know I said that I wasn't fully recovered from all the medical/stress/surgery crap until I did that triathlon, but now I REALLY feel recovered because one of the last races I ran before it all started was a half marathon.
Here's my "coming back" medal count so far.
Not bad for a woman who in January could not even take her own trash out 🙂
Next Weekend, the Run for a Soldier Half Marathon (I decided that I wanted my "Half Fanatic" status) and then moving into some serious training for the Seattle Marathon.
~L