~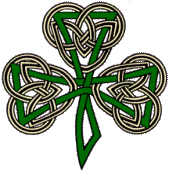 Today is the day in which everyone claims to be "Irish" for a day. (Oh, did you know that St Patrick is believed to have been of Welsh descent?)
It's a day where many of the self proclaimed Irish go out and drink too much and often behave like idiots. Much like New Year's Eve, St Patrick's Day is often considered "amateur night" due to the sheer volume of drunken idiots out getting their party on.
Like New Years Eve, it's certainly not a night I'd be out on the road risking my life driving with the idiots, especially not on a night when I have things to do the next day.
And then there's the big debate (OK, it's a big debate in some circles) as to if the alleged "snakes" that St Patrick supposedly drove out of Ireland really refers to the serpent symbol favored by the druids as he helped (forcibly) covert the country to Christianity.
I know many good pagan folk that boycott the holiday because face it, driving the earth centered religion out of the land isn't a very nice thing to do so why "celebrate" it? (Hmmm, sounds a bit like US Thanksgiving doesn't it?)
I know many peace loving people of Irish descent who wear red to protest the blood shed by religious war in Ireland and do not participate in the activities.
I know other people who wear Orange on the day in support of Irish Protestants.
It's not only a holiday in which people often over indulge, but it is one that has some serious social, political and religious issues attached to it.
I'm becoming a fan of the term "Irish Day" rather than "St Patrick's Day". Although I am of Irish descent (and Scots and Welsh among others) I am not Catholic (nor Christian) and the only "saint" I have any relationship with is Brigid who was a Goddess long before she was canonized, and her flame is still tended in Kildare Ireland. (Interestingly enough, by nuns)
I wear green, not to choose a "side" but because I don't necessarily want to be pinched. (oh, and I've been told it looks good with my hair color) and because, hey why not appreciate it for the Americanized celebration it is.
I often run in the Tacoma and (bigger and crazier) Seattle St Paddy's Day races, which are about community and tradition (and good healthy fun/earning one's beer) and attend Celtic festivals in Seattle and Tacoma.
I'm going to celebrate "Irish Day" and let everyone else celebrate (or not) as they see fit. (much like I celebrate US Thanksgiving as a day to give thanks and share with friends rather than pretend that atrocities were not committed against the first nations people)
I enjoy Celtic music and a Guinness as much as anyone. Two years ago, I walked to my neighborhood pub to listened to some music, drank a Guinness (no sitting, it was standing room only), realized that it was too loud/noisy/crowded to talk to anyone or get another beer without waiting for an hour, went home early (did I mention that 5:00 AM wakeup call?) and and watched "The Secret of Roan Inish"
For the last two years, I decided to forgo the crowds and am instead hosting a small gathering of local friends & neighbors to drink Draught Guinness (the fun kind in the can with the C02 cartridge that looks so pretty in the glass) eat home cooked pulled pork (way tastier and healthier than corned beef) some live music and perhaps we will also watch "The Secret of Roan Inish", a truly charming Irish tale.
I hope everyone enjoys this day and that they do so responsibly; please don't drink and drive and risk your life or the life of some innocent person on the road.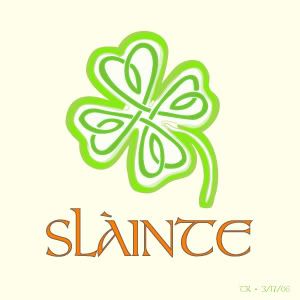 ~L
Mood: Amused

~